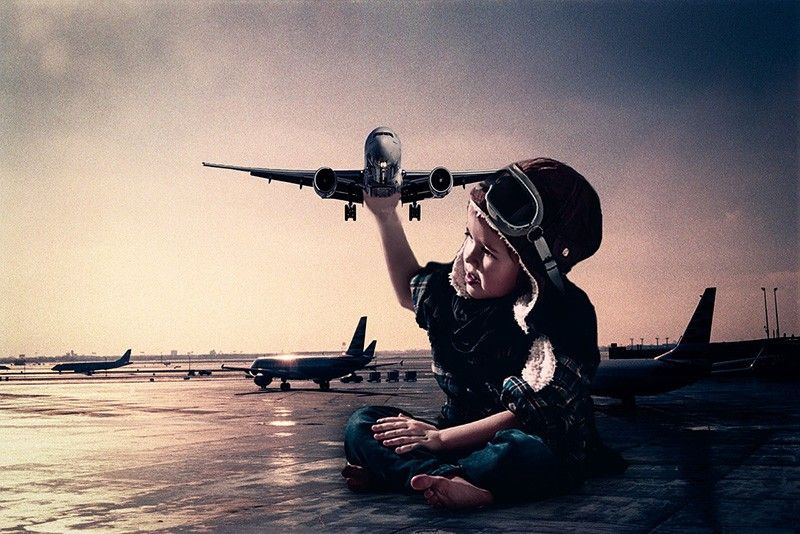 MANILA, Philippines — It isn't easy to be traveling with a child with a hidden disability like autism more so when you encounter people who do not understand how difficult and volatile your situation is.
Fortunately, airline personnel, both cabin crew and ground staff, are now professionally oriented and trained to handle situations involving persons with autism and their travel companions as well as to assist them in the airport and on board the aircraft to make life as comfortable and enjoyable as possible in the course of their trip.
Categorized as a hidden disability, autism spectrum disorder is a neurological and developmental disorder that affects how people interact with others, communicate, learn and behave. It is known as a spectrum disorder because, as the name suggests, there are wide variations in the types and severity of symptoms people experience, and therefore a range of sensory needs can occur.
It is exactly for such times or circumstances that airline personnel can come in and help facilitate planned and positive travel experiences to keep persons with autism happily busy.
Emirates, for one, has been sending its cabin crew and ground staff for special training on hidden disabilities, with special attention on autism, to equip them with knowledge on how to recognize persons with autism and how to assist them from the airport to the aircraft and down to the airport of their destination.
The latest batch of 24,000 cabin crew and ground personnel has just recently completed the airline company's Introduction to Autism and Hidden Disabilities training. The airline has also set in place guidelines on special services that will be rendered to such passengers and calls on the crew to make these happen.
Before the flight…
Information provided in advance
Emirates supports passengers with hidden disabilities by providing as much information in advance as possible, so that families can plan, rehearse, and be reassured about their upcoming travel.
Free seat selection and bulkhead seat for autistic passengers and their companions
Passengers who declare a hidden disability will be facilitated as much as possible in the complimentary selection of suitable seats, for example, the bulkhead seats at the front and middle of the aircraft for both the autistic passenger and the companion.
Book with 'DPNA code' for extra support
A DPNA is an airline industry code for special service request (SSR) for a "passenger with intellectual or developmental disability". The DPNA code can be applied to a booking made in person, via telephone or travel agent and is applied once the hidden disability is declared, so that the passenger will be supported throughout his (or her) journey with assistance from trained staff.
Study the 'Autism Friendly Guide' to Dubai International Airport
Emirates has collaborated with Dubai International Airport on a comprehensive pre-travel planning tool for passengers with hidden disabilities. The Autism Friendly Guide to Dubai International Airport provides a step-by-step explanation and images of every part of the journey through the airport to boarding, and details on what services are available.
Pre-order meals
Some passengers with a sensory sensitivity may need a special meal on board. This can be ordered a minimum of 24 hours in advance via the Emirates website or on the Emirates app.
Options are in place to order gluten-free meals, bland meals, vegetarian and diabetic meals. For kids' meals, families travelling with an autistic passenger may contact the Emirates local office with their request in advance.
Pre-plan what to watch on ice via Emirates app
Download the Emirates app, and, before a flight, passengers can spend time planning and pre-selecting their favorite movies, TV shows or music playlists. Once the passenger has boarded, their personally curated playlist can be synced immediately to ice, saving time and enabling them to settle into the flight with the comfort of familiar content.
Arrival at the airport
Complimentary parking for 2 hours
People of Determination get complimentary parking in all terminals in Dubai International Airport for two hours. Such special taxis can also be booked via Dubai Taxi on their toll-free number 80088088.
Collect the Hidden Disabilities Sunflower lanyard
The Hidden Disabilities Sunflower is a globally recognized symbol for hidden disabilities. Emirates staff with Sunflower pins are easily identifiable and specially trained to assist travelers with hidden disabilities.
Passengers are encouraged to declare their hidden disability to these staff and collect a sunflower lanyard to wear or bring their own from home, allowing for support throughout the airport journey. The sunflower lanyard may be collected from the information desk in Departures, Terminal 3 and from dedicated, easily identifiable collection points in Terminals 1 and 2.
Autism friendly route
The Autism Friendly Route through Dubai International Airport (DXB) ensures that People of Determination (POD) can move through the airport with a dedicated route. It includes access to priority lanes for check-in, passport control, security and boarding; and can be availed by passengers wearing the sunflower lanyard.
There are specially trained staff equipped to support POD travelers, who are easily identifiable by wearing sunflower pins, allowing for increased visibility, communication and support throughout the airport journey.
Priority boarding or board last, if preferred
People who have declared their hidden disabilities to Emirates staff will be facilitated in boarding the aircraft first, if they choose, or last, if this more convenient.
Onboard the aircraft
Families with children are seated together
Emirates makes every effort to seat families with children together, and passengers who have declared their hidden disability will be seated beside their companion or guardian.
Noise-cancelling earphones
Passengers with an aural sensory need in first and business class will have access to noise-cancelling headphones to block out ambient cabin sounds. Travelers can also bring their own Bluetooth enabled headphones, if preferred.
Light sensitivity
If the passenger, child or family member informs the cabin crew about a light sensitivity, cabin crew can turn off the passenger's individual light, close the window blind after take-off, and explain that the cabin lights will be dimmed as soon as the meal services are completed.
Get busy with puzzles in 'Fly with Me' magazine
Young children onboard who need a screen break or distraction can request for a copy of the "Fly with Me" activity pack, with its own pack of non-toxic coloring pencils, featuring kid-friendly world maps, puzzles, drawing tutorials, coloring pages, educational activities regarding Dubai and protecting the environment.
Choose your entertainment on ice
Passengers enjoying an Emirates flight can pass the time in a world-class entertainment library with more than 5,000 channels of on-demand entertainment, over 1,900 movies and 1,500 hours of TV, as well as music, podcasts and audiobooks across 40 languages, 5 channels of live TV including news from BBC, CNN and Sky News Arabia, and two channels with live sport coverage- Sport 24 and Sport 24 Extra. Ice also has up to 100 video games, which can be played by two players in different seats—if the game is a multiplayer game.
Emirates continues to collaborate with multiple stakeholders, including Dubai Airports, General Directorate of Residency and Foreigners Affairs, Dubai Customs, Dubai Police, Dubai Autism Centre, and Dubai Economy and Tourism to improve the travel experience for passengers with hidden disabilities and is committed to help create a world where neurodivergent individuals feel accepted, represented, included, empowered, and heard.
*****
Credit belongs to : www.philstar.com