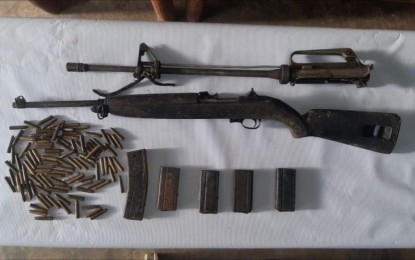 BACOLOD CITY – Troops of the Philippine Army recently found another cache of firearms belonging to the Communist Party of the Philippines-New People's Army (CPP-NPA) in Negros Occidental.
A report of the 3rd Infantry Division on Monday said a special operation conducted by the 79th Infantry Battalion (IB) led them to the location in Sitio Huebesan, Barangay Marcelo, Calatrava town at dawn of December 17.
Maj. Gen. Eric Vinoya, commander of 3ID, said the discovery of the firearms brings an advantage to the government troops as they go on intensified combat mode against the CPP-NPA.
"The NPA is infamous for staging attacks not only against government forces but also against civilians during the holiday season. This is a big help to our intensified combat operations as it will prevent them from using these war materiel in launching terroristic activities," he added.
During the operation in Calatrava, which was conducted following the information provided by the locals, the troops found an M2 carbine rifle with five magazines and an upper receiver of M16 rifle.
The discovery came exactly three months after troops of 62IB also discovered 12 firearms in the vicinity of Sitio Bungao in Barangay Macagahay, Moises Padilla.
Vinoya said the latest development also shows the dwindling number of communist-terrorists in Negros Island.
"Their number has significantly declined following the series of surrenders and apprehensions of their leaders and members," he added.
The CPP-NPA is listed as a terrorist organization by the United States, the European Union, the United Kingdom, Australia, Canada, New Zealand, and the Philippines. (PNA)
Credit belongs to : www.pna.gov.ph