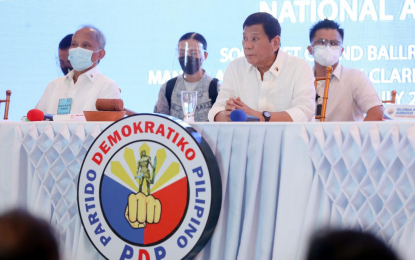 MANILA – Energy Secretary Alfonso Cusi on Friday sought reconciliation with Senator Aquilino Pimentel III for the sake of the ruling party, the Partido Demokratiko Pilipino-Lakas ng Bayan (PDP-Laban).
Following the Commission on Elections (Comelec) ruling that the officers and members of the Cusi-led faction are the "true and official" members of the PDP-Laban, Pimentel said they will file a motion for reconsideration and labeled the other group as "fake" members.
In a press statement, Cusi hoped to settle his faction's differences with the Pimentel wing.
"We invite Senator Koko Pimentel to meet with us. We invite him to take a step back and to not be emotional. Let us unite for the sake of PDP Laban. Let us make the party stronger than ever," he said.
Cusi expressed optimism that Pimentel, son of PDP-Laban's late co-founder Aquilino Pimentel Jr., would accept his offer.
"We are asking him to stop issuing inflammatory statements. We have worked together in the past. We can work together again for the future," he said.
The Comelec Second Division, in its 11-page resolution released Thursday, acknowledged the legitimacy of the Cusi wing over the Senator Manny Pacquiao-led faction.
"Considering that President Rodrigo Duterte's chairmanship is an undisputed and well-settled fact in the aforementioned dates, it is also undisputed that chairman Duterte's acts on even dates are valid and effective. The fact that he presided over the election of the new sets of officers and committee chairpersons validates the entire process, making the [the] officers as the duly elected officers of PDP-Laban," the resolution read.
The Comelec also ruled as valid the Cusi wing's May 31 and July 16 national council meetings and July 17 national assembly.
Cusi thanked the Second Division, led by Commissioner Socorro Inting, for its "wise decision to declare and recognize his faction as the real PDP-Laban party.
"Without a doubt, we at PDP-Laban are reinvigorated to continue the programs, services and advocacies of President Duterte from this day until the next term. Ituloy natin ang pagbabago (Let's continue the change)," Cusi said.
Cusi said the Comelec may have taken into consideration the "unwavering support of its (party's) more than 100,000 members nationwide and the loyalty of its more than 5,384 incumbent officials and candidates".
Pimentel, in a separate statement, said he would contest the decision which he said is "not immediately executory." (PNA)
*****
Credit belongs to : www.pna.gov.ph