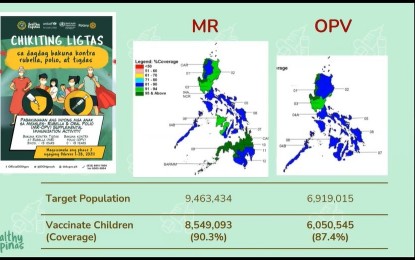 MANILA – A health official on Monday reported that the national government's vaccination program against measles-rubella and polio has reached the majority of the eligible children amid the pandemic.
In an online media forum, Health Undersecretary Maria Rosario Vergeire noted that 90.3 percent or 8.5 million of the 9.4 million target children got a measles-rubella shot while 87 percent or 6 million of 6.9 million children under five years old received oral polio vaccines.
"Due to the Covid-19 (coronavirus) pandemic, the number of children who received the complete basic life-saving routine immunization in 2020 is around 1.3 million which is 61.5 percent of the eligible population for vaccination. This is more than 30 percent below the national target even vaccines being accessible and available during community quarantine periods," Vergeire said.
Due to fear of being exposed to people with Covid-19, Vergeire explained that many parents were reluctant to leave their homes and have their children vaccinated.
Moreover, healthcare workers on the ground were unavailable for the vaccination program because they were re-deployed to attend to vaccination duties.
"The Philippines is one of the few countries that continued with its efforts for supplemental immunization campaigns in the middle of pandemic. The Sabayang Patak Kontra Polio is a continuation of the 2019 polio campaign in response to the polio outbreak in the country," Vergeire said.
She added that in July 2020, the agency has vaccinated more than 2 million children less than five years old in Central Luzon, Cavite, Laguna, and Rizal.
Meanwhile, the first phase of the vaccination against measles-rubella was conducted October to November 2020 covering Luzon regions and the whole of Mindanao and the second phase was conducted during the first quarter of 2021 including the National Capital Region, Central Luzon, Calabarzon, and the Visayas.
Vergeire stressed the vaccines used in routine immunization have been backed up by decades of research and an established system of delivery and monitoring.
"Vaccines saved millions of children from the debilitating effects of VPDs like polio, measles, mumps, and a lot more," she said. (PNA)
*****
Credit belongs to : www.pna.gov.ph