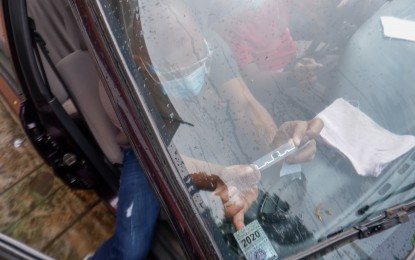 MANILA – Speaker Lord Allan Velasco on Monday urged the Department of Transportation (DOTr) to further extend the deadline for installing radio-frequency identification (RFID) stickers on vehicles using the tollways until the first quarter of 2021.
Velasco made the call as tollways experienced gridlock upon the implementation of cashless payment in various expressways on Dec. 1.
He said it would be more realistic if the deadline is further extended to March 31, 2021 to give all motorists enough time to secure the stickers for the cashless payment system, noting that the country continues to grapple with the pandemic where the movement of the people is limited.
"At the rate things are going, I don't think all 6.1 million registered vehicles in Metro Manila, Central Luzon and Calabarzon will be provided with RFID stickers by Jan. 11, 2021," Velasco said.
Citing the observations made by the House committee on transportation in its motu-proprio hearing on Nov. 25 regarding the possible implementation problems of the cashless payment scheme at tollways, Velasco said it would take more than two years for all vehicles using the tollways to be provided with the RFID stickers.
House transportation committee chair Edgar Sarmiento noted that Thailand and Indonesia took a year and a half on the average to be fully cashless.
"In comparison, it's been barely five months from the issuance of the Department Order 2020-012 since the implementation of cashless payment," Sarmiento said.
It was also bared during the committee hearing that the RFID Reader Equipment Machines of the North Luzon Expressway have yet to be upgraded.
Velasco said concerned agencies should have ensured the feasibility of going cashless in the amount of time given to vehicle owners.
"Instead, the implementation on Dec. 1 looked like a dry-run. This defeats the purpose of having our tollways becoming efficient in going cashless," he said.
Toll Regulatory Board Executive Director Abraham Sales said a portion of motorists who passed through tollways on Dec. 1 were allowed to pay cash due to long queues during the first day of implementation of the 100 percent cashless toll collections.
Sales said intermittent heavy traffic was monitored in several expressways from early morning to evening during the program's first day of implementation, with some toll operators deciding to accept cash payments during these periods.
"Yan yung tinatawag namin na (That's what we call) birth pains because it was day one of the implementation of this cashless toll collection program," Sales said.
While they were expecting some traffic as there are still a lot of motorists having their RFID stickers installed in the past days, he said the traffic was made worse by the long weekend, with a lot of motorists coming from provinces and passing through tollways on their way back to Metro Manila.
DOTr Assistant Secretary Goddes Hope Libiran said another reason cited by toll operators for the heavy traffic was the large number of motorists who entered expressways without sufficient balance.
"Ang advice nga natin o panawagan sa mga kababayan natin na huwag na hintayin yung kanilang travel papunta sa toll gate para lang magpa-load (Our advice or call to our motorists is not to wait until their travel to load their RFID wallets). They should load in advance," Libiran said.
To help ensure smoother implementation of the cashless toll payments program in the future, Libiran said they have also asked toll operators to establish more offsite RFID installation sites and to hold "massive" information campaigns to help motorists find their nearest installation sites. (PNA)
Credit belongs to : www.pna.gov.ph