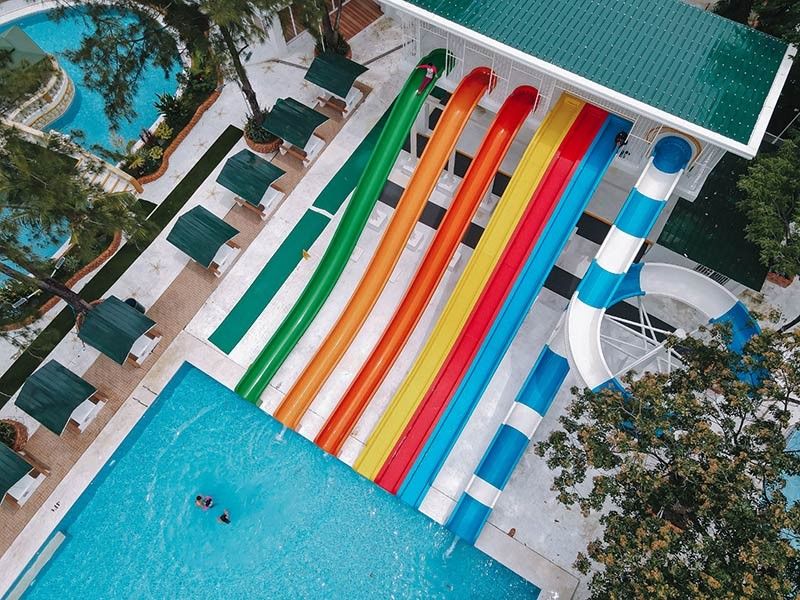 MANILA, Philippines — Villa Excellance Beach and Wave Pool Resort, a modern resort boasting the biggest and grandest wave pool in Cavite, welcomes the new year with a well-curated selection of adventures and activities best shared with family and friends.
Villa Excellance is set to kick start the year with the launch of their grand ballroom that can sit up to 300 guests—the perfect venue for grand affairs, may it be weddings, reunions and conferences, among many others.
Festive celebrations are made possible because of its spacious grounds, equipped with state-of-the-art audio, video and lighting equipment, and styled with tasteful aesthetics that rival world class events halls. For smaller functions, may it be corporate or social gatherings, there are meeting and event rooms, sitting 50 to 80 guests that are sure to make every celebration grand, spectacular, and worthwhile.
Committed to providing "waves of fun for everyone," this beach resort seated on a 7-hectare property along the coastline of Tanza, Cavite, offers kids and kids at heart a safe outdoor escape through its myriad of world-class fun water activities and exciting attractions including one themed pool, three wave pools, three pools with slides, one infinity pool.
"We are excited to unveil the new face of Villa Excellance to our patrons and guests – a new look, exciting offerings, and good deals best shared with loved ones," Chief Executive Officer Carlo Antonio Castro shares.
"Now is the fitting time to celebrate new beginnings and advances as we are envisioning to add to our wave pool features by expanding our facilities to four different outlets and cater to all kinds of banquet events. Aside from that, we wanted to become the first water park in Cavite with a cashless system by using an advanced RFID technology," he adds.
The property boasts 11 accommodation types, all beautifully styled with rustic and contemporary elements to complement the surrounding nature.
Photo Release
Raising the bar high in leisure hospitality, Villa Excellance rewards its esteemed guests with worry-free and bespoke stays on their 4-star accommodations. Guests can attest that this modern resort brims with a distinct charm that screams home away from home.
The property boasts 11 accommodation types, all beautifully styled with rustic and contemporary elements to complement the surrounding nature. Its array of villas, rooms and cottages that can accoommodate two guests, small groups of four to six, or even bigger groups of eight to 10. from two to 10 guests.
Each type is well-equipped with what you would expect from an establishment in the city – a flat-screen TV, a dresser that doubles as a working area, air conditioning, and most importantly, a Wi-Fi strong enough to allow one to work from paradise should the need arises.
Positioning itself as the top waterpark destination in Cavite, Villa Excellance is set to open four inviting dining outlets into its very own complex to complete every traveler's adventure.
Soon to launch are Casa De Excellance, a beachfront fine dining restaurant serves a sumptuous medley of local Caviteño cuisines with a fusion of Spanish dishes that is sure to delight your taste buds; The Sunset Clubhouse, a more casual and relaxed setting that offers light snacks to filling meals using the freshest ingredients straight from the market specially curated by its culinary experts for an intimate get together of friends and family; The Boardwalk Bar and Grill, a place to share cold drinks and good food al-fresco style completed by the sweeping view of the bay; and the Galley Cloud Kitchen, the beach resort's in-room dining service that promises to deliver your cravings to your hut or table in the resort with a few taps on your phone, through online ordering.
The property observes stringent health and safety measures in line with local government guidelines and holds the Department of Tourism "Safety Seal" to ensure the wellbeing of its guests and team members.
For reservations, book direct at https://bit.ly/VillaExcellanceBookNow, email [email protected], send a message at https://bit.ly/VillaExcellance, or call +63 916 523 2802 | +63 998 840 5246. You may also visit https://villaexcellance.com/ for more updates.
*****
Credit belongs to : www.philstar.com