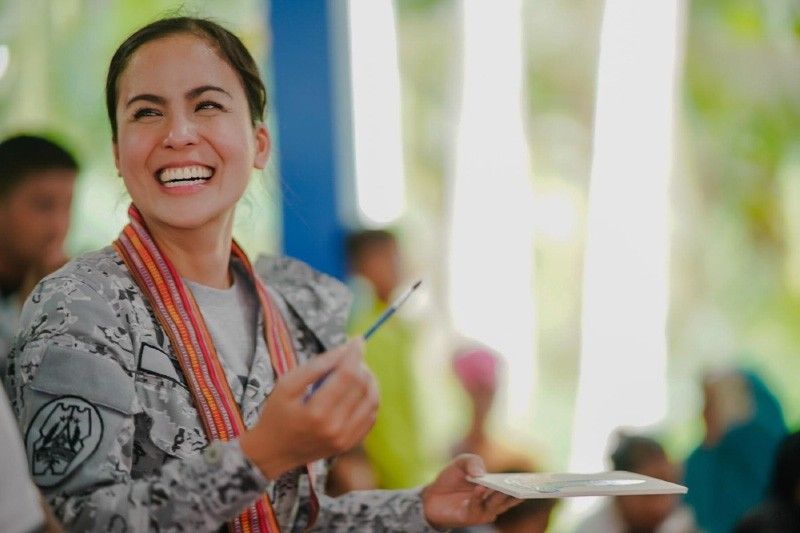 MANILA, Philippines — Missionary visual artist Kristine Lim visited Basilan recently for her first official mission as a soldier under the Philippine Navy (PN).
Artist on a Mission founder, CMO2 Kristine Ann S. Lim PN (Res) in real life, she was in the company of fellow Naval Reserve Public Affairs Unit (NRPAU) Ambassadors Miss Philippines-World 2016 IT1 Kristine Joy Ocampo Cruz PN (Res), and her sister, Brand Ambassador, PO3 Ninna Ricci Cruz PN (Res), as well as GMA Kapuso artist, PO2 JC Tiuseco PN (Res).
Together, the four NRPAU Ambassadors visited Pilas Island, Hadji Muhtamad Municipality, Basilan Province, to conduct an All-in-One Medical Mission. A major event, the medical mission covered a lot of ground, providing residents not just such services as medical and dental assistance, distribution of reading eyeglasses, and cataract and cleft lip profiling, but also gift giving, distribution of toys and groceries, arts and crafts lessons for children, musical ensemble, and symposium with the Local Government Unit (LGU) of Pilas Island. Also in attendance during the symposium were private and public stakeholders coming from various sectors of society.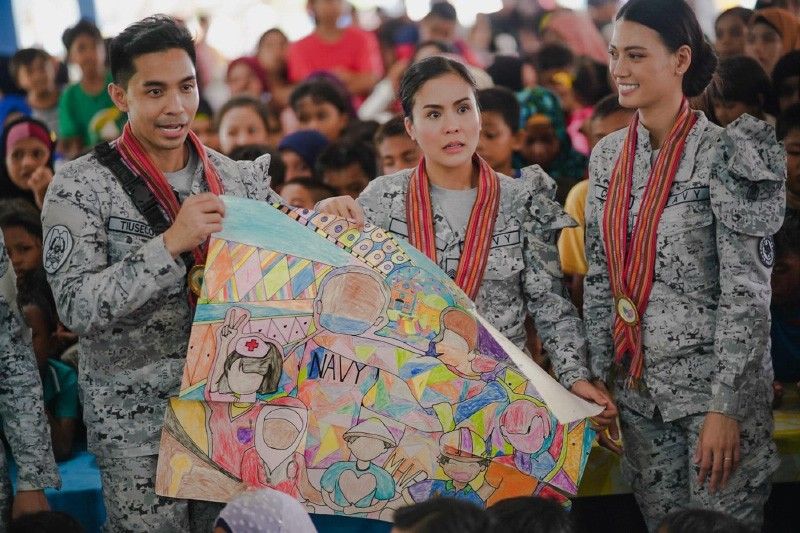 Lim (center) with other volunteers
Lim also conducted an Art for Peace activity with volunteers from MHVP, and children of the area happily participated in the activity.
Sponsors of the event included Pediatrica Inc., Integrated Resource Development for Tri-People, Team Handog Aguila, MLhuillier, One World Foundation, JCI, and McDonald House Foundation, B/Gen. Roylyn Manzano PN (M)(Res). Regular military personnel, doctors, nurses, and other volunteers also spent their precious time taking part in the mission, which also turned over donations of food, equipment, medicine, hygiene kits and other essential items to Hadji Muhtamad Municipality's Mayor Arsina Kahing-Nanoh and Basilan Governor Jim Hataman Salliman.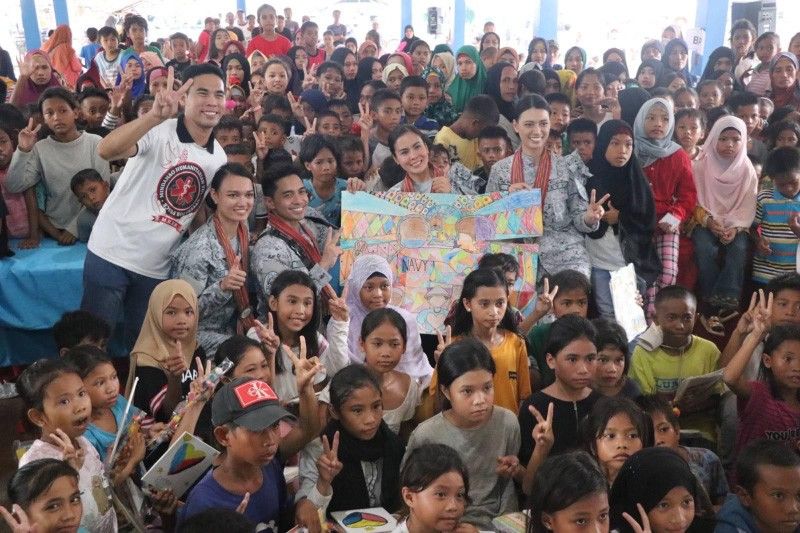 Showing off their art pieces
The event in Basilan was made possible through the support of Acting Commander, Naval Forces Western Mindanao, Capt. Dwight Steven Dulnoan PN; Commander, Naval Reserve Command, BGen Joseph Ferrous Cuison PN (M); and Flag Officer in Command, Philippine Navy, Radm Toriio Adaci Jr. PN.
The Philippine Navy made its presence felt at Pilas Island to sustain and strengthen its maritime security of the area and promote socio-economic development.
RELATED: Artist Kristine Lim's 'artvocacy' sustains typhoon victims
*****
Credit belongs to : www.philstar.com