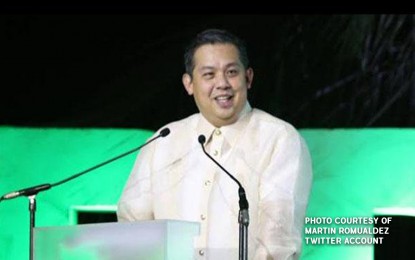 MANILA – House Majority Leader Martin Romualdez on Friday said waiving intellectual property rights on coronavirus disease (Covid-19) vaccines is not only morally right, but would ensure people's survival amid the pandemic.
Romualdez made the statement as he lauded the Biden administration's support to international efforts suspending intellectual property protection rules for Covid-19 vaccines.
"Waiving intellectual property protections for vaccines during a pandemic is not only morally right. Any move that will fast-track the development, production and distribution of Covid-19 vaccines in every part of the globe will ensure our survival as a species," Romualdez said. "In the age of pandemic, world leaders now agree that nobody is safe until everyone is safe."
He called on Philippine health officials to closely monitor and actively participate in global discussions on the campaign for waiving patent rules for Covid-19 vaccines to ramp up the production of vaccines in the country.
"Let us be proactive and engage vaccine manufacturers in negotiations on how to avail of these patents for the Philippines. Procrastination in a time of crisis is unacceptable," he said.
Romualdez also emphasized the need to support not just the vaccine patent waiver, but also sufficient funding for researchers, medical experts, and health workers.
He noted that the country is not bereft of brilliant researchers and practitioners in the medical field, arguing that Filipino health experts are at par with the best in the world.
"It is time that we act in unison towards the same direction. Get the patent for the Covid-19 vaccine. Mobilize funding support for the production of vaccines here in the Philippines. Make these vaccines free to Filipinos," he said.
As of May 4, there are 3,505 vaccination sites inoculating A1 (healthcare workers), A2 (senior citizens), and A3 (persons with comorbidities) groups across 17 regions.
A total of 2,065,235 Filipinos have been vaccinated with the initial dose while 320,586 are already fully vaccinated.
Some 97 percent of the 1,805,000 allocated first doses have already been administered, equating to 1,744,649 doses, while second doses have reached 320,586. (PNA)
*****
Credit belongs to : www.pna.gov.ph