Filmmakers refer to the "golden hour" that time of day touching on dusk, when the light is redder and softer as the sun prepares to sink. It also coincides with cocktail hour, and although we're not quite ready for liberation from lockdown (too many cases still rising), we are definitely prepared for libation when the golden hour comes. Here are three selections now on the market.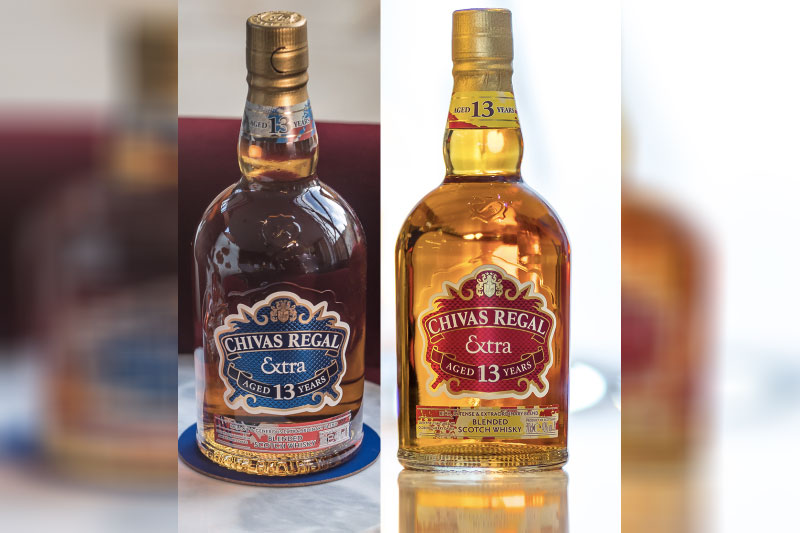 Chivas Regal Extra 13 is selectively aged in Oloroso sherry and American rye casks for a mature blended whisky experience
When 13 is your lucky number
We've seen plenty of 12-year-aged whiskies on the market. How about someone taking it a notch higher? Chivas Regal are happy to oblige with a very smooth, sweet pair of bottles: Chivas Regal Extra 13 is selectively aged in Oloroso sherry and American rye casks for a mature blended whisky experience. Spicy notes, ripe pear fruits, cinnamon and vanilla on the nose.
Extra 13 stands out from the pack with its longer aging process (one more year than the usual 12) and distinct, delightful flavors from extra selective cask finishes.
To paraphrase Nigel Tufnel in Spinal Tap, "This one goes up to 13."
Developed by Chivas Master Blender Sandy Hyslop and his team, the new Chivas Extra 13 collection takes us deep into Spanish sherry and American oak finishes — a current near-obsession for me. Spicy notes, ripe pear fruits, cinnamon and vanilla on the nose… what's not to love?
We tried the Oloroso Sherry flavor first, a rich and intense exploration of the Chivas house style: sweet, fruity and spicy with notes of ripe pears in syrup, as well as vanilla, caramel, cinnamon and almonds.
Next we tried American Rye: a mellow and generous take on Chivas Blended Scotch, finished in American Rye casks. There are hints of orange, milk chocolate, cinnamon, ginger and nutmeg along with the sweet, spicy and fruity notes of the Oloroso. Both feature a long, smooth finish and pair nicely with cut fruits (apples or pears with whisky is another current obsession), and bites of dark or milk chocolate.
But these are no namby-pamby sherry and rye expressions. Both blends stand quite well on their own, on ice or neat. "With drinkers becoming more and more interested in bolder flavors, it's the best time to create new whisky experiences and attract new drinkers to the exciting world of Blended Scotch whisky," says Chivas Regal brand manager Mary Jane Wong.
The bottle design is vibrant, with flag colors (red and yellow for the Oloroso sherry; red, white and blue for the American rye) reflecting the casks used to finish the blend. We salute both additions to the Chivas Regal family.
* * *
Available at all S&R, Landers, Landmark and Pioneer outlets as well as Boozy.ph and Liquor.ph. Visit the Chivas website at https://www.chivas.com/en-PH, or follow Chivas on Facebook and on Instagram at @chivasregalph.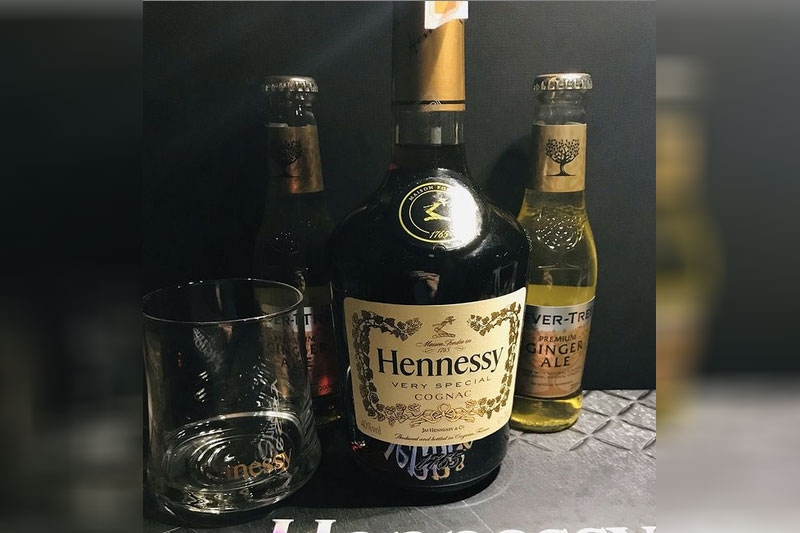 Something Very Special this way comes: Hennessy Very Special for classic luxury.
Welcome to the Vanguard Society
Hennessy has long been known for its "VS" initials, meaning "very special." Now a new generation of entrepreneurs and creatives is taking up the classic brand in a Hennessy VS campaign called "Vanguard Society."
We got a peek at Hennessy's "artists from all walks of life" who "share a sense of self-determination, a game-changing creative approach, and a desire to shake up the system," embodying the spirit of the Hennessy Very Special brand, and its slogan: "Never Stop. Never Settle."
But really: you already had us at "Hennessy Very Special."
Sometimes classics are best left that way. Hennessy has been perfectly made for a quarter of a millennium now (that's 250 years), and it's the crown jewel of the LVMH luxury tastes. We inspected the classy box that arrived, including two bottles of Fever-Tree Premium Ginger Ale from the UK and a mixing kit, plus a generous sampling of Hennessy Very Special, then got to unsealing the cap.
Enticing nutty notes on the nose set the scene; then a bold greeting to the palate that conveys apple and grape notes, met with a smooth, soothing layer of sweet, toasty wood that splashes over your taste buds. Cognac is such a unique experience in the brandy spectrum that I prefer it neat, but the ginger-ale cocktail on ice was also a smash.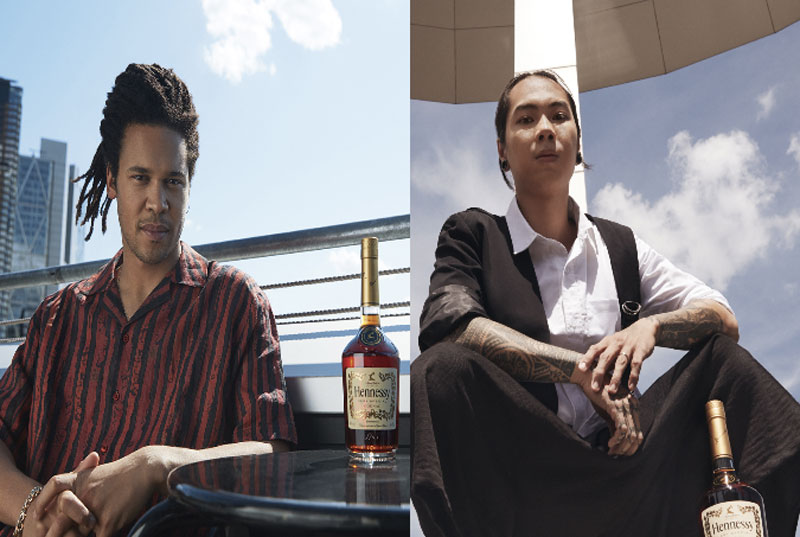 DJ Bradley Zero Phillip and Vietnamese street fashion designer Quang Minh are part of the "Vanguard Society."
With its beguiling blend of eauxs-de-vie, Hennessy Very Special is a luxury taste and a treat, and that's part of the latest campaign aimed at the new generation of Hennessy drinkers spread around the globe. As 2021 reopens, expect Very Special to feature in more live art and music events, as they "continue to weave a global tapestry of talent and engaging creative communities." The list includes artist Bradley Zero Phillip, founder of the UK-based multi-genre label Rhythm Section International and livestreaming music start-up Boiler Room; and Vietnamese street fashion designer Quang Minh of street style label Headless, also a vocalist in the hard rock band Razor Leaf. Local artists, musicians and "vanguards" will also feature in the mix soon.
Hyphenates and Hennessy. A perfect combo, it seems.
* * *
Hennessy Very Special is distributed by Moet Hennessy Philippines.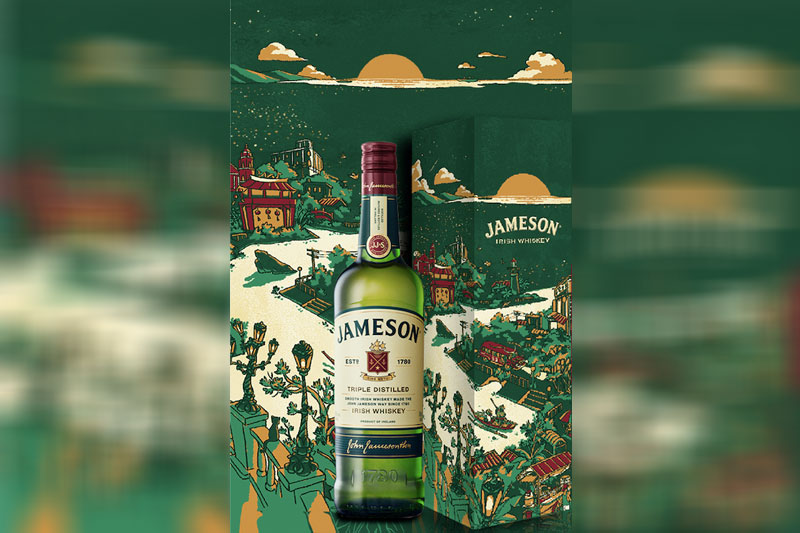 Filipino artist Jap Mikel designed the new limited-edition Jameson St. Patrick's Day box design.
When Irish eyes are smiling
Not even lockdown can keep a good St. Patrick's Day celebration down. Jameson set up at The Palace for a series of DJ parties streamed over Facebook, leading up to a big pre-St. Paddie's Day party last Saturday. DJs and local acts Ron Poe, Curtismith, Super Mikki, August Wahh, Tala, Leanne and Naara and Marga on the Mic gave the show a cool beach club vibe — stacked with crates of Jameson, naturally.
Great music sets reminded us of what we're missing in real life, but it was a good chance to hoist glasses and win raffle prizes designed in collaboration with local brands Don't Blame the Kids and Vamos (T-shirts, beach hats, socks and lanyards done up with creative cuts on the Jameson logo). Plus, it was a great way to roll out the new limited-edition Jameson box created by artist Jap Mikel, featuring a Manila scene. Called "Twilight City," the green-themed art shows the city's landmarks, in "a mix of East and West, as well as the blend of history, folklore and modern life," said Mikel.
Jameson brand manager Frances Favila vowed: "This year we're going to take our tradition back for ourselves and celebrate the things we can celebrate on St. Patrick's Day." A good night to stay in and stay green.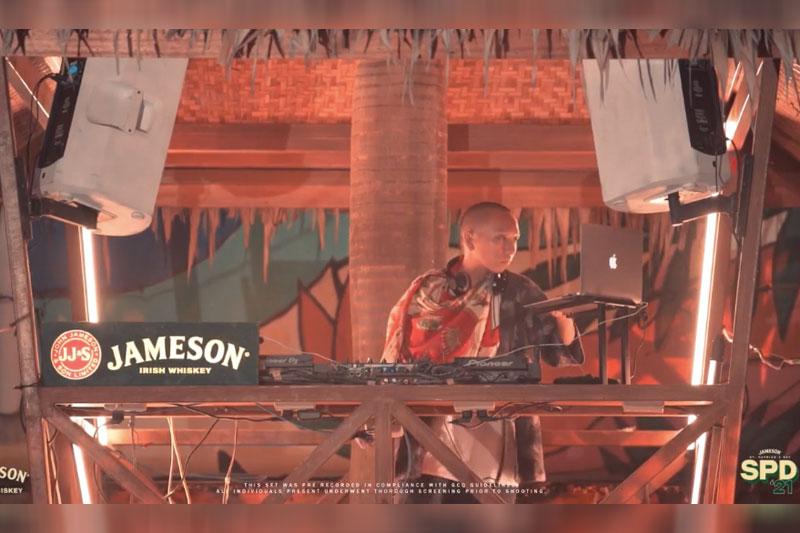 Jameson held an early St. Patrick's Day streaming party at The Palace. (Shown: SuperMikki)
* * *
Get Jap Mikel's limited-edition St. Patrick's Day box design at Boozy.ph and major supermarkets.
*****
Credit belongs to : www.philstar.com