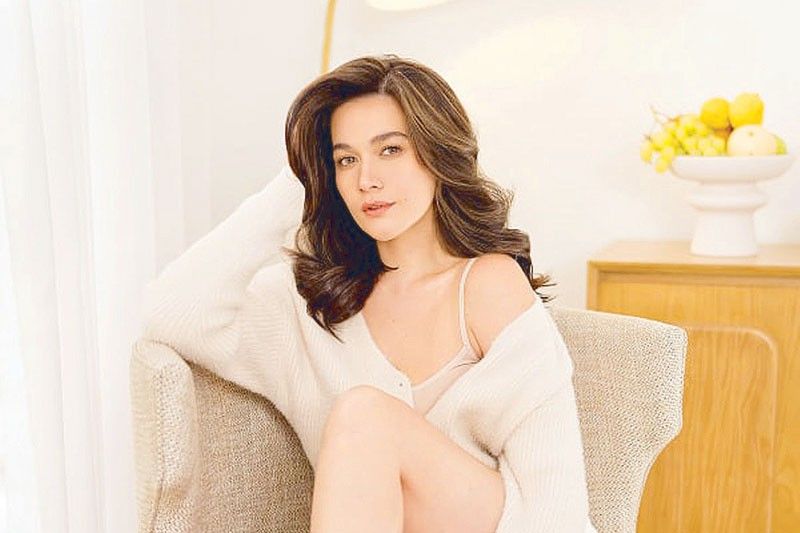 MANILA, Philippines — Bea Alonzo has finally completed the renovation of her condo unit into a workspace, which she has dubbed her "work hub/mini-office."
The actress uploaded a video tour of the workspace on her YouTube channel, donning an all-black casual ensemble accented with gold buttons.
The entrance of the space is flanked by fluted panels, a French mirror wall and a grand arch. She shared that she opted to create a minimalist and fluid hallway for a "grand entrance."
Bea reiterated her decision to go for a Japandi design, which is a combination of Scandinavian functionality and Japanese rustic minimalism. "I wanted to achieve simplicity… and a calming and functional space — functionality is key."
WATCH: Bea Alonzo gives a tour of her completed Japandi work hub
The fluted panels slide to reveal a kitchenette made of Carrara marble, similar to the material she has in her Spanish condo. A sink, microwave, storage space for cutlery and snacks, refrigerator and a coffee area complete her kitchenette.
The bathroom door is actually built into the French mirror wall, as is the electricity panel board, with the decent-sized bathroom itself again covered in fluted panels, Carrara marble and marble-like wallpaper.
Another thing Bea incorporated into the space was the Japanese Wabi-Sabi philosophy that embraces the beauty of imperfection, as highlighted by the warped shape of the bathroom mirror.
Fluted panels again make an appearance in the minimalist living room, which has a marble-top table adorned by a Michael Cacnio scultpure as a centerpiece — the artwork originally from her house.
"Iniisip ko na I would come here to read my scripts, study a specific movie I want to do, or even write," Bea said, adding that the mini-office was a way of making sure she didn't have to bring her work home.
Related: Bea Alonzo converts condo into Japanese-Scandinavian office space
Bea even suggested hosting drinking or brainstorming sessions with friends or her team to further define the lounge as a creative space. She added they can do the same activities in the dining area, which has a marble-topped table with fluted panel-covered legs.
Tucked in a corner is a makeshift studio with different backdrops and a coffee-drinking space, which was initially going to be Bea's own office, but she realized she'd rather be around her team when they are discussing ideas.
A small balcony area decorated by a green turf and artifical plants gives another view that overlooks Quezon City apart from the dining area's glass windows. "Sa laki ng space makikita mo you're really just a speck of dust."
Bea shares the space might not be her last work hub; it's just for her and her team and not a big group.
"Mas gusto ko i-compartmentalize 'yung buhay ko… Gusto ko ng place para i-perform ang tasks ko whenever I would wear my different hats," the actress said. — Video from Bea Alonzo's YouTube channel
RELATED: WATCH: Bea Alonzo prepares meals for Aeta neighbors at her Zambales farm
*****
Credit belongs to : www.philstar.com