MANILA, Philippines — Looking for a Filipiniana costume? You may choose between a Terno or a Balintawak. But how can you tell them apart?
Famed Filipino scenographer and Filipiniana historian Gino Gonzales explained the difference between Terno and Balintawak.
While the Terno is a Filipino national costume top typified by its butterfly sleeves that usually comes with a matching skirt hence the term "terno" or "matching," a Balintawak, Gonzales said, is still a Terno but with twists.
"First and for all, a Balintawak is still a Terno, but it's the country version and it has two elements that are very important. One is the alampay, which is a kerchief, and a tapis, which is a strip of cloth that's wrapped around the waist. And normally, those two things match," Gonzales told Philstar.com in an exclusive interview at yesterday's opening of Ternocon III: Ang Balintawak Ngayon exhibit for which he is the Artistic Director.
"They're very practical pieces. The alampay is also used for wiping sweat, covering your head when it's hot, and then covering your shoulders when it's cold. You use it for travel, for working, etc.," added Gonzales, who wore an Ivarluski Aseron Barong Tagalog strewn with artificial sampaguita flowers.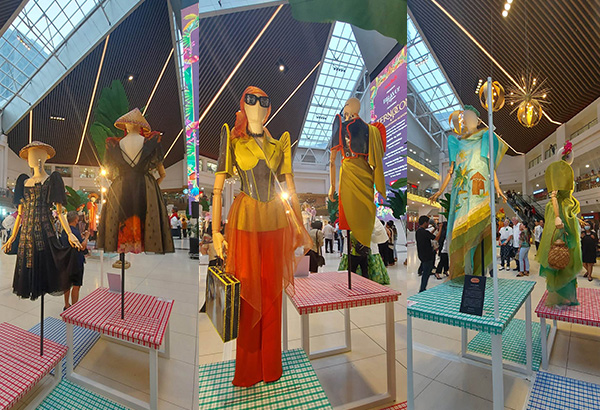 Some of the pieces on display include creations by Glyn Alley Magtibay (center), an Oriental Mindoro native mentored by designers and The STAR columnists Chito Vijandre and Ricky Toledo, who innovatively played with translucent X-ray sheets to create the Balintawak's butterfly sleeves, bodice, corset and other accessories.
Philstar.com/Deni Rose M. Afinidad-Bernardo
Dennis Marasigan, Cultural Center of the Philippines (CCP) vice president and artistic director, explained in a speech at the exhibit opening that the Balintawak is the Terno's country version.
"The Balintawak is typically used for trips to the countryside and it is characterized by a camisa with a butterfly sleeves, a matching alampay, a saya with a tapis worn around the waist. Design motifs include stripes, plaid, floral, and whimsical imagery. And though it was originally intended as an informal attire, the Balintawak has also evolved as a formal dress over the decades," he elaborated.
"Like other variations of Terno, Balintawak identifies with the butterfly sleeves. Typically used for town fiestas, pilgrimages, or excursions to the countryside, this type of Terno is characterized by its alampay (a piece of cloth used as a head scarf, a kerchief folded as a triangle, or folded as a narrow rectangle resting on one shoulder) and the tapis (a strip of cloth wrapped around the waist)," a CCP press statement said.
"Traditional Balintawaks were typically made from cañamazo (for the camisa/blouse) and printed cotton (for the alampay, tapis, and saya/skirt). Design motifs include stripes, plaid, flora, and whimsical imagery."
From a country costume usually only worn by folk dancers, Ternocon aims to "find new ways" into making the Balintawak more relevant to today's generation, hence the exhibit, said Gonzales.
He recalled that when Ternocon, a biennial Terno-making convention and competition, culminated with a fashion show recently, Ayala Malls officials loved it so much that they envisioned to bring the Ternocon closer to mallgoers.
"By seeing the garments, you'd be inspired to wear it," Gino said of the around 75 creations on display from 26 designers from all over the Philippines, ranging from to young designers to Ternocon mentors like "Manila's Fashion Prince" Inno Sotto.
"Although documentation of Ternocon is available on social media, a physical exhibit can provide better public awareness on the historical and social context of the Balintawak – giving next generations of Filipinos more reasons to admire and appreciate our symbols of identity as Filipinos," Marasigan said. — Video by Philstar.com/Deni Bernardo, editing by EC Toledo
*****
Credit belongs to : www.philstar.com