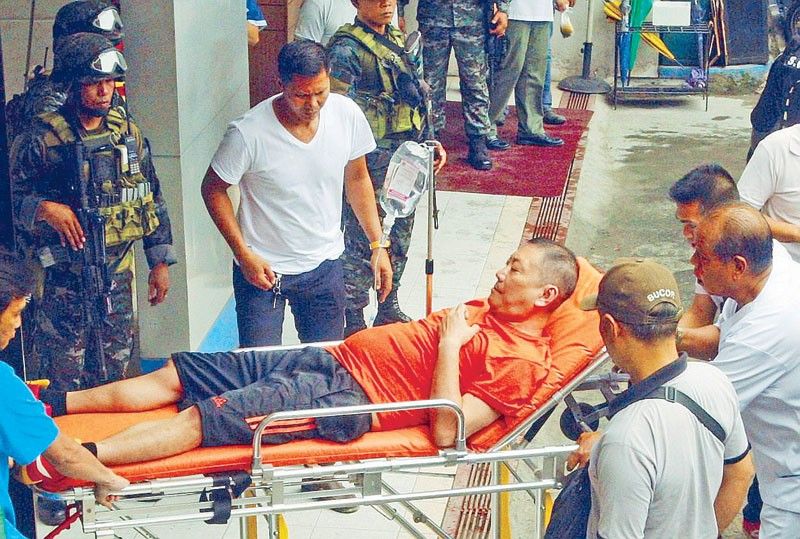 MANILA, Philippines — Opposition Sen. Leila de Lima questioned Sunday the "trend of witnesses dying" as she raised the possibility of foul play after the second straight death of a former witness against her amid the coronavirus pandemic.
This comes after Vincent Sy, a convicted drug lord who once testified against De Lima, suddenly died of a heart attack on Thursday, July 29.
Sy, who previously testified and said that he contributed half a million pesos to De Lima's senatorial campaign in 2012, eventually retracted his claims and admitted he did not know De Lima according to the senator's lawyer.
"It's not remote that any, some, if not all, of these prosecution witnesses who were either coerced, threatened, bribed or blackmailed to lie about my alleged drug links would be targeted for extermination in order to permanently silence them from exposing the truth about my cases," the senator said in a dispatch from her cell in Camp Crame.
"This beleaguering trend of witnesses dying still does not give comfort to me who is waiting for their eventual revelation on who are behind these fabricated charges filed against me. As they say, dead men tell no tales. And it appears that my persecutors are sticking to the malevolent wisdom of this saying. As if the truth can be eternally buried or is not inevitable. As if there's no day of reckoning."
The death of Sy is only the second high-profile death linked to De Lima's case after drug convict Jaybee Sebastian also succumbed to the coronavirus in July last year. Former Justice Secretary Vitaliano Aguirre II accused him of running a funding campaign to support De Lima's Senate run in 2016.
READ: Drug lord admits he never met De Lima or financed her senatorial campaign — lawyer
"I believe and maintain, to this day, that it was a case of deliberate killing in order to block his then impending retraction of his affidavit falsely implicating me in the Bilibid drug trade," she said Sunday of Sebastian's death.
De Lima was jailed in 2017 over drug charges filed by the Department of Justice. She is accused of involvement in the illegal drug trade at the New Bilibid Prison when she was Justice secretary during the presidency of Benigno Aquino III.
The senator has long been an outspoken critic of the Duterte administration and once attempted to investigate the existence of an alleged "Davao Death Squad" while Justice Secretary and later when she was chair of the Commission on Human Rights.
De Lima did not mince words Sunday, raising the possibility of foul play behind Sy's recent death.
"Ano na naman ito!? Meron na naman namatay (o pinatay?) na high-profile inmate sa Bilibid. At cardiac arrest naman daw ang dahilan," De Lima said.
(What is this? Another high-profile died (or was killed?) in Bilibid. And cardiac arrest is the reason this time.)
"Sino kaya ang isusunod nila? (I wonder who will come next?)"
De Lima was acquitted earlier this year in one of three drug cases against her. The two others remain pending in separate courts, though she has yet to be convicted of any crimes. She claims the charges against her are politically motivated and are made up.
— with reports from Bella Perez-Rubio
As It Happens
LATEST UPDATE: February 17, 2021 – 6:53pm
Sen. Leila de Lima on Saturday marked the first year of her detention at the Philippine National Police detention center in Quezon City.
Ahead of the anniversary of her arrest, the Senate minority and various rights groups called on the Philippine government to release her immediately.
The Department of Justice initially charged De Lima for drug trading, but over the months, the state prosecutors filed motions to amend the charges and indict the senator on conspiracy to commit drug trading instead.
De Lima is known as one of the most outspoken critics of President Rodrigio Duterte's administration.
February 17, 2021 – 6:53pm
Opposition Sen. Leila de Lima says she's elated after being acquitted in one of the drug charges she is facing.
"To be acquitted even in just one case, in the time of Duterte, is a victory," the opposition says in a statement Wednesday.
"Na-deny man ang ating Demurrer to Evidence at Motion for Bail sa Criminal Case No. 17-165, naniniwala ako at ang aking mga abogado na mahina ang ebidensya ng gobyerno dito para patunayan ang mga gawa-gawa nilang paratang," she adds.
August 14, 2020 – 11:53am
Sen. Leila de Lima files a motion for bail for the drug case against her and Ronnie Dayan before a Muntinlupa court. The detained senator argues that evidence presented by the prosecution was not strong.
"Without prejudice to her prior arguments questioning the validity of the Amended Information, Accused De Lima respectfully submits that she is entitled to bail as a matter of right, and thus moves for bail ad cautelam," the motion read.
July 24, 2020 – 12:58pm
Opposition Sen. Leila de Lima questions the sudden death of Bilibid inmate Jaybee Sebastian from the coronavirus disease.
"Sebastian's death means one less perjured witness against me, but it also means one less witness against Duterte, Vitaliano Aguirre, Jose Calida, Persida Acosta, Sandra Cam, Ferdinand Topacio, certain retired police generals, and all those who conspired to line-up all these Bilibid inmates to manufacture stories of drug-dealing to implicate me and send me to prison," the senator says.
July 7, 2020 – 2:23pm
Opposition Sen. Leila de Lima files a measure seeking to provide free immunizations for senior citizens who are all susceptible to viruses.
"No less than the Constitution guarantees that the needs of the elderly in relation to their right to health shall be given priority by the State. Clearly, senior citizens belong to a special class of individuals for which the Constitution affords preferential concern," De Lima says.
"Their growing number coupled with their susceptibilities has now made it vital for the State to make the promotion and protection of their health and well-being among its priority social legislations," she adds.
June 27, 2020 – 2:19pm
Opposition Sen. Leila de Lima slams the move to change the name of the Ninoy Aquino International Airport to Paliparang Pandaigdig ng Pilipinas.
"Ano na namang kabalbalan ito?" the senator asks.
"The lawmakers pushing for it has a distorted sense of nationalism, if at all. Such a proposal is devoid of any salutary objective. It's plain and simple politics. And stupidity," De Lima adds.
*****
Credit belongs to : www.philstar.ca