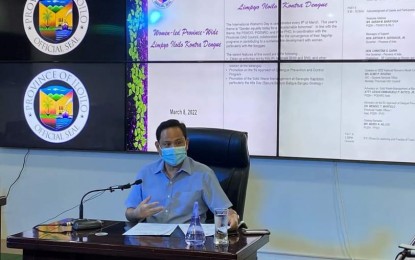 ILOILO CITY – Women will lead a province-wide cleanup activity in Iloilo province on March 8 to prevent a possible surge in dengue fever cases.
"We are preparing for another war, which hopefully will not happen," said Iloilo Governor Arthur Defensor Jr. in his press conference late Thursday afternoon.
Defensor also signed Executive Orders (EOs) 190 and 191 placing the province under Alert Level 5 "Kontra Dengue" and commemorating the National Women's Month and the International Women's Day through the women-led "Limpyo Iloilo Kontra Dengue", respectively.
Limpyo Iloilo is the umbrella cleanup program of the province.
Alert Level 5 refers to the "5S" strategy that the provincial government would like to implement composed of the enhanced "4S" strategy of search and destroy mosquito breeding sites, seek early consultation, self-protection, and say "yes" to fogging in hot spot areas, with the addition of the social distancing amid the health pandemic.
EO 191 states the cleanup will be led by Kalipunan ng Liping Pilipina (KALIPI), female barangay health workers (BHWs), barangay nutrition scholars (BNS) and other women in the barangay.
The governor added that historical data showed that 2022 is marked as the third year in the three-year cycle of the resurgence of dengue.
From the period 2013 to 2021, the province recorded high cases with 6,564 in 2013; 2016 with 9,392; and the highest was in 2019 with 22,169.
In 2014, the province has 2,289 cases; 330 in 2015; 1,340 in 2017; 2,316 in 2018; 707 in 2020; and 486 in 2021.
"What is important here is we all continue to practice the 4 o'clock habit and we are urging our municipalities and other stakeholders, private sector, national government agencies, socio-civic organizations," Defensor said. (PNA)
*****
Credit belongs to : www.pna.gov.ph