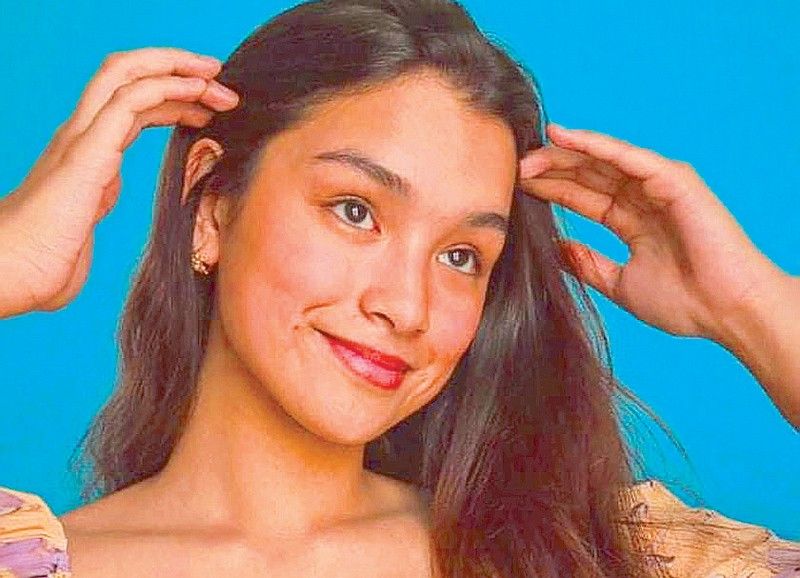 MANILA, Philippines — When the parent has made his mark in music, expect that one of the offsprings will follow in the footsteps and embark on a musical career, too.
Zach Ignacio, the 19-year-old daughter of Gail Ignacio, the former drummer of '90s rock band Alamid, did not surprise everyone when she started singing at a young age. Early on, Zach knew she could carry a tune. Her mom is literally the queen of karaoke.
"I discovered I could carry a tune seriously when I was around Grade 5," recalls Zach, the middle child in a brood of three. "My best friend, at the time, was also fond of singing and we would go to each other's house to do karaoke or home-made music videos and covers, mostly Ariana Grande songs."
The first full-length song Zach rendered in front of an audience was Listen by Beyonce. "I sang it during our school elections also when I was Grade 5," Zach grants.
Zach strongly credits her dad why she's pursuing a career in music. "Growing up watching him perform onstage, I also wanted to do what he was doing," Zach discloses. "To add, watching other concerts when I was younger also inspired me."
However, Zach discovered she can also create songs. "One of the main reasons I wanted to embark on a musical career was to express my emotions through writing," she asserts. "I have a lot of music influences since I like listening to a wide variety of genres.
"For R&B (rhythm and blues) or pop, it would be Ariana Grande or Daniel Caesar. For OPM (Original Pilipino Music), I idolize Moira dela Torre, Al James, Just Hush (Jan Emerson Magtoto), Ben&Ben and a lot more."
Cliché as it may sound, but Zach's inspiration to write songs would be herself and her own experiences. "I usually create R&B or more sentimental songs, with lyrics expressing how I feel at the time I am writing them," she offers. "Or lyrics I think other people would relate to, as well."
Becoming a professional singer was Zach's childhood dream. She was not sidetracked from pursuing that ambition. "When I was very young, I always wanted to be either a singer or an actress," Zach shares. "Fortunately, I don't think there was any instance where I was sidetracked from trying to pursue that dream."
Zach is very fortunate that her parents have been nothing but supportive towards her dream of creating music for a living. "Becoming successful with creating music as a profession is a long and hard journey," Zach acknowledges.
"I am also not that realistic as other people say, but my parents have always kept encouraging me. They have also supported me financially in buying new equipment for making music. They even designated a spot in our new house for me to create more music."
Recently, Star Music signed up Zach into a recording contract and she's a step closer into fulfilling her dream. The first project she will delve into is to release her first single, Dahan Dahan, and hopefully, complete an album as well. She is also looking forward to creating visuals and music videos, and having photoshoots to promote her songs.
Zach is open to collaborating with other artists. She dreams of working with OPM artists such as Moira, Ben&Ben or Just Hush and James Reid for R&B.
Young as she is, Zach supports the LGBTQ community or even the racists and misogynists. "I get so disappointed by close-minded people," Zach allows. "I always stand up for what I believe in, especially if it means helping other people be more included in their community.
"What angers me the most is if people disrespect the LGBTQ community, women or people of color, just for simply being them or expressing themselves differently than what is accepted as normal to society."
Her parents will always be her role model or inspiration in her personal and professional life. "Growing up with them, I have witnessed how hard working and determined they are in achieving what they want in life if they set their mind to it," Zach grants.
"I saw how strong they are and learned from them that facing hardships should never cause you to give up. Seeing this from my own parents helped me become the person I am today and to continue working on myself and on my goals to become an even better person."
One of the challenges Zach used to encounter was feeling anxious around new people and overthinking how others would look at her. "This could be tough at times because I want to try and experience new things, since I would always hesitate due to my anxieties," she shares. "I am now getting better at this. Throughout the past few years, I have learned to step outside my comfort zone and am more confident about myself."
In September, Zach will start college in a university and she wants to take up health sciences.
When this pandemic tapers off, Zach expresses her desire to travel again. "The first thing I'll do is travel internationally again. I love traveling and I will travel the world my whole life if I can," Zach concludes.
*****
Credit belongs to : www.philstar.com