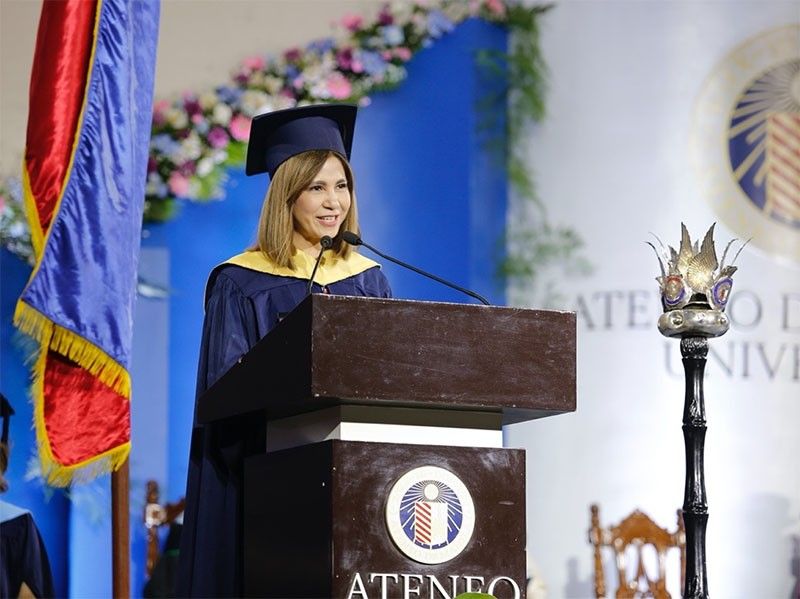 (Excerpts from my commencement speech for Ateneo Senior High School Class of 2023) '
Who among you has used ChatGPT before?
I also tried using ChatGPT and asked for its definition of 'Lux in Domino.'
It said, and I quote, "It is a Latin phrase that translates to 'Light in the Lord' in English. It expresses the idea of illumination found in the spiritual realm. In the context of faith, it suggests that true wisdom comes from a connection with God. While 'Lux in Domino' is not the official motto of the Ateneo, it may be used in certain contexts to convey the university's commitment to seeking knowledge within a spiritual framework."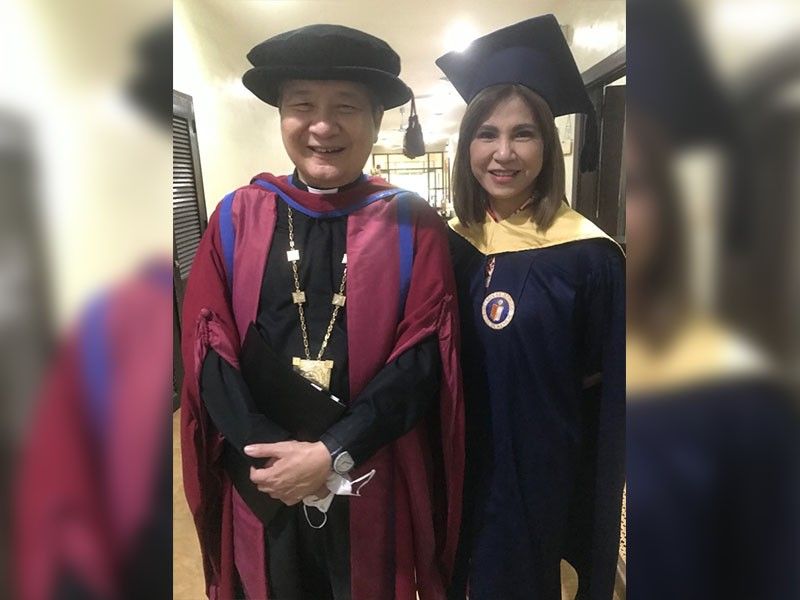 Father Bobby Yap, president of the Ateneo de Manila University, during the commencement exercises.
Pasado ba ang ChatGPT, Fr. Bobby (President, Ateneo de Manila University)? Tama ba yung sinabi niya? Just to repeat what Fr. Bobby said, he said, no, because 'Lux in Domino" is in fact the official motto of the Ateneo.
You're probably wondering why a journalist and communications graduate, would talk to GenZs about artificial intelligence. Well, first, because aside from the COVID pandemic, AI is another pivotal phenomenon that will DEFINE your generation.
Second, as a fellow Blue Eagle, I would like for you, the leaders of tomorrow, to consider how you can be a bright light in a digital world dominated by AI.
Your world is becoming increasingly digital. Every day, new and better AI apps are sprouting.
At this point, the artificial part of AI is a wild card we can't fully fathom. Like all things, it has its advantages. For instance, unlike human labor, AI costs less. It doesn't get tired.
But we don't have a clear picture of its disadvantages as of yet. This is new and – an uncharted territory for all of us. But it will be YOUR reality, YOUR future. And we don't know what that reality, that future world will be like for you.
What will happen when AI takes the lead in the name of efficiency? What will happen when our humanness becomes irrelevant?
Like in my industry, for instance. What impact will AI have on media?
Kristian Hammond — a Professor of Computer Science at Northwestern University and Director of The Center for Advancing Machine Intelligence predicts — that in 15 years, 90% of news will be written by machines. The same goes for marketing and other content.
In Hollywood where scriptwriters are currently on strike asking for better pay, some tv and movie outfits are already exploring AI-written scripts. According to Justine Bateman, a former actress who is a coder with a degree in Computer Science, even actors are in danger of losing their jobs. Uso na ang digital-scanning sa Hollywood. Once an actor is digitally scanned, his image or voice can be used to create movies.
In the Philippines, my fearless forecast is this: By next year, AI will be used to imitate the voices of broadcasters like me. Perhaps, even our likeness. So it will seem like I'm the one delivering the news, but it's actually a digital version of me.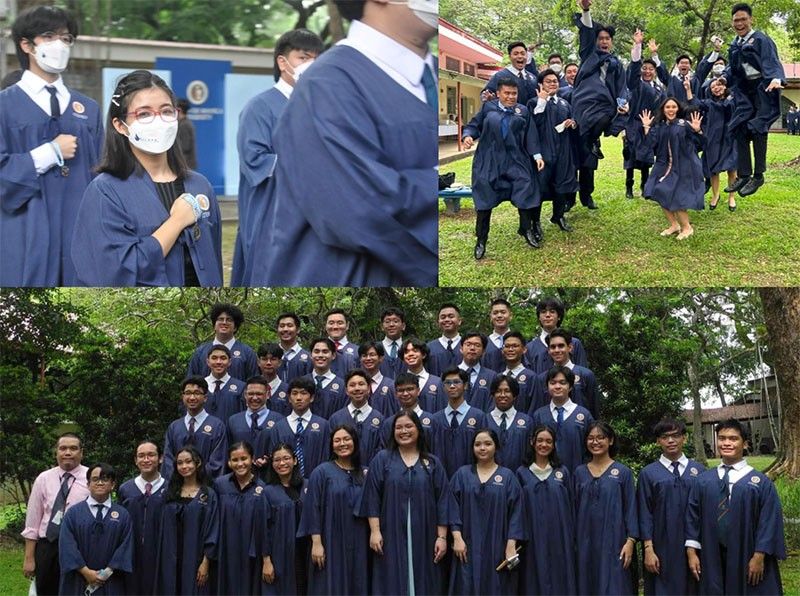 My daughter, Fiana, with her batchmates from the Ateneo de Manila Senior High School
Kate Quiambao, Josh Guerrero and Erica Dela Cruz
AI and today's youth
But let's bring AI's impact closer to your present context.
In terms of academics, the most obvious downside is that AI can encourage laziness, dishonesty and cheating. It's very human to want to find the easy way out. But as technology offers more and more conveniences and shortcuts, sometimes I worry that the rise of AI will be the downfall of the human race.
Why? Out of all other life forms, only humans have the capacity to dream and create. When you let AI do all your thinking, you stop stretching your imagination and challenging your creativity. And imagination and creativity are precisely what set us apart from other creatures. Because of them, we're able to hope, invent, and even empathize by imagining ourselves in another person's shoes.
That's what I mean when I say technology — especially AI — could very well lead to our downfall. Though these tools are man-made and are very useful, they have the potential to deprive us of the things that make us human.
When the internet was first introduced, it was meant to bring people closer together, despite distances. But ironically, technology now has a way of keeping us apart. It's so easy to get lost in our own little bubbles. We can be physically present, but emotionally distant.
It's not just sad, it's a crisis in the making. Because isolation can be a fertile ground for all kinds of emotional and psychological problems.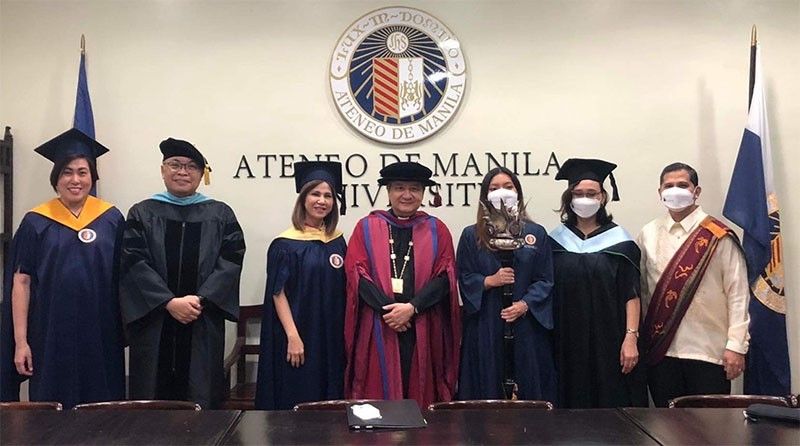 With some officials from the Ateneo de Manila University (L-R): Maria Jennifer A. Concepcion (Asst. Principal for Formation), Fr. Joaquin Jose Mari C. Sumpaico III, SJ (Vice-Pres. for Basic Education), me, Fr. Roberto C. Yap, SJ (President), Nadhine A. Acul-Acul (Batch's Sanggunian President), Ma. Cecilia Lacson (Asst. Principal for Administration), Javy M. Fabello (Asst. Principal for Academics).
Cyrus Lim
Since the onset of COVID, the incidence of mental health disorders in children and teenagers due to family and parenting issues has been steadily escalating. The years of lockdowns have played a critical role in this. The pandemic has robbed your generation of the joys and frustrations of socializing with your peers.
Instead, your generation has grown more accustomed to online interaction rather than real-world shared experiences. It's no wonder that more and more young people are finding emotional support in the artificial realm instead of the real world.
Chatbots are now becoming virtual companions. In the US, there's a growing trend for people with mental health issues, including children, to resort to using AI companionship apps for emotional security and validation. In countries like Italy, chatbots that offer virtual friendship services have already been banned because some emotionally vulnerable people, especially kids, have already become addicted to these artificial interactions.
It's sad enough when children seek emotional support from people other than their family. But it's downright tragic when they'd prefer to find solace and ask advice from AI apps.
Valuing people, not technology
No matter how advanced it may become, AI can never replace human warmth and wisdom. Precisely because they're artificial. Chatbots can or virtual friends never give genuine concern. They can just mimic it. They will never be able to sympathize and empathize because they don't have the benefit of human life experiences. Let alone emotions.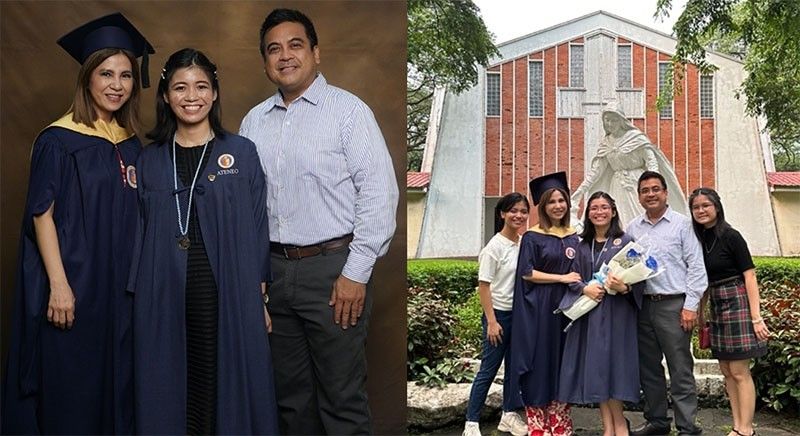 It was such a privilege to be the commencement speaker for my daughter, Fiana's graduation.
Left photo by Partage
Machines will never be able to truly touch your heart nor your spirit, because they have neither. They will never replace the warmth that human love can give, especially the kind that your family can give you.
Though technology will forever be a part of your reality, do not to let it dominate your life. Let it just be a tool to serve your purpose. It is only there to ignite your passions. Use it to make your light burn brightly for the service of others.
Four more years or so, and you will truly go down from the hill. As you prepare to conquer the world, please always remember to also value people, your family and friends. I cannot stress this enough. Value people — not AI, not technology — but human beings..
Beginning today, let us all be more present and in the moment for each other. Start by putting away those gadgets. Because if we don't, then five, maybe 10 years down the road, our families may not have anything to hold it together. And fractured families will make our already damaged society all the more broken and isolating.
So again, our dear graduates, don't become attached to your tech at the expense of your relationships! I challenge you to be there for each other. Seize every opportunity to build memories together, to dream together, to become each other's strength and sanctuary.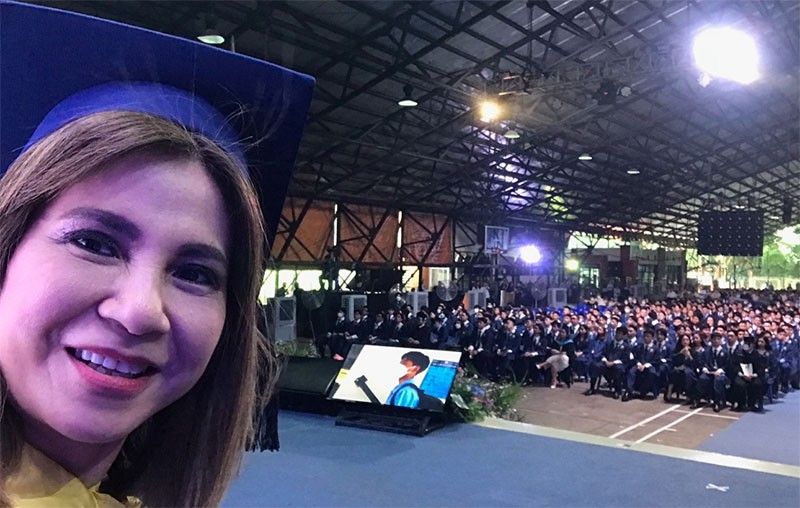 Congratulations to the Ateneo Senior High School Class of 2023!
Going down from the hill for the greater glory of God
It is my sincere wish that, years from now, you will still carry with you a little bit of what I've said today. I pray that every time you pick up your phone or whatever device, every time you use an AI app, the challenge I've posed today will somehow come to mind.
And should you remember, I hope that you'll consider putting away your gadgets to savor real life with those you love.
As you walk your life's path in and out of your digital world, it will be the well-traveled-roads shared with your loved ones that will always, always lead you back home. GPS can't do that for you. Only your heart can.
Your families will always be here to support and prepare you to one day conquer the skies. But don't forget that you are meant to always land down the hill, where you can make the most difference.
Strive to become a part of something bigger than yourself. And let your flame burn so brightly, it can be seen from the heavens and down to the ground, all for God's greater glory.
Congratulations, Ateneo Senior High School Class of 2023!

—-
Watch Pamilya Talk on Facebook, YouTube and Kumu (@JingCastaneda – 12:00 noon – 1:00 p.m. Monday & Wednesday). You can also follow my social media accounts: Instagram, Facebook, YouTube, Tiktok, Twitter and Kumu. Please share your stories or suggest topics at [email protected]
*****
Credit belongs to : www.philstar.com