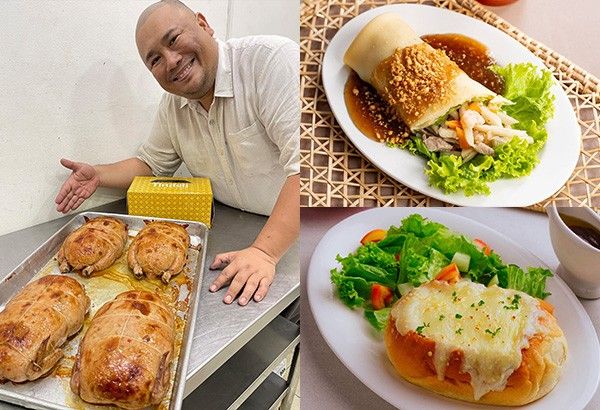 MANILA, Philippines — Chef Myke 'Tatung' Sarthou has the Midas touch. Like King Midas in Greek mythology, anything he touches turns to gold. In Chef Tatung's case, any undertaking that he gets into ends up to be a successful venture.
But while Midas' golden touch turned out to be a curse, Chef Tatung's has remained to be a blessing because he invests hard work, creativity, culinary talent and passion into every new project.
Last October 26, the multi-talented chef officially opened his newest food concept — a tindahan and deli called Tindeli — at Gateway 2 Mall, Araneta City, Cubao, Quezon City. While he had business partners for his other restaurants, this one is his own.
Tindeli is actually a café and deli shop in one. The concept is still Pinoy, so the deli products that customers will find here are longganisa, tocino, tapa, local cheeses, smoked hamon, wood smoked bacon, and other Pinoy-inspired charcuterie items.
Chef Tatung is also very proud of Tindeli's Chicken Galantina, which is sold in whole chicken and in slices in a sandwich or rice meal. Considering how much Filipinos love chicken, the Chicken Galantina is expected to be one of Tindeli's best-sellers.
'Tindesal'
The newest cafe's range of Tindesal sandwiches are also expected to be favorites. These are oversized pandesals with delicious homemade fillings, such as Cheesy Chicken Salad Melt, Tindeli Pride Chicken, Tuna Tomato Melt, Choriquezo, Egg Sandwich, Galantina, Chistmas Jamon, and, yes, Lechon Baka. The latter's the ultimate in gourmet sandwich.
"Tindesal is our way of celebrating the pandesal as a great bread for delicious sandwiches," said Chef Tatung.
Another major attraction at Tindeli is its All-Day Almusal menu, which pays homage to classic Pinoy Silog meals. Its Silog meals are Chicken Tocino, Longganisa, Smoked Bacon, Homemade Spam, Beef Tapa, Corned Beef, and Mixisilog (a combination of tocino, beef tapa, and longganisa). Each choice of protein comes with either fried garlic rice (sinangag) o pandesal and eggs (itlog) cooked according to preference.
Salads and merienda favorites as well as coffee make up the rest of Tindeli's menu items, but the deli also sells homemade sausages, local cheeses, bottled salad dressings and sauces.
"The food we serve and sell at Tindeli is custom-made for the store, thus giving it a very personal touch. We bake our own breads and pastries, we make our own sausages, longganisa and other charcuterie," shared the chef.
"Tindeli," he added, is "not meant to be a fancy place but a cozy spot where one can relax and chill with good homemade food and good coffee or tea – alone or with friends and family."
The place exudes a casual, comfy and relaxed mood, with its modern Filipino interiors designed by Chef Tatung himself. Of all his brands, Chef Tatung hopes to grow this one in the next few years, working on it with passion and dedication like no other.
RELATED: Chef Tatung Sarthou creates peanut butter dishes at his new restaurant Azadore
*****
Credit belongs to : www.philstar.com