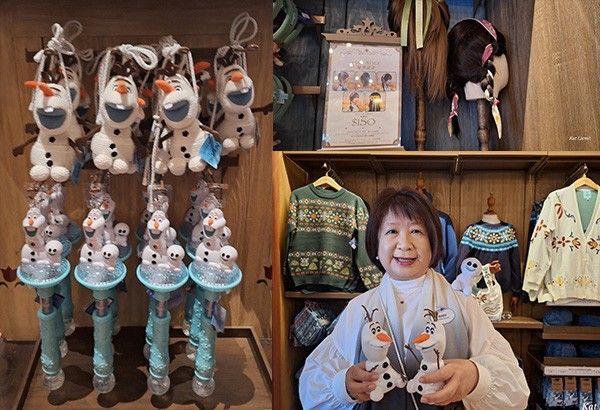 HONG KONG — There's a promise of looking like an Arendellian and witnessing a twin-talking Olaf when one drops by the Frozen store inside World of Frozen in Hong Kong Disneyland.
Set to open on November 20 to the public, the World of Frozen is the first "Frozen" theme park in a Disneyland.
Fans of Anna, Elsa and the beloved snowman Olaf can have a piece of all three characters from the store.
For one, there are headbands and headpieces that can be bought. Those who would want to look an Arendallian can have their hair done with the ribbon headpieces in the colors of Arendelle. There are also sweaters, little girl party or costume dresses.
The men, who are either the dads, boyfriends, brother or the special male to someone in the family, can choose to buy an Olaf shoulder plushie or a knitted Olaf sling bag.
Mary Lam, director of Merchandise, told select media, including Philstar.com during the soon-to-open Frozen theme park sneak peak yesterday that there are about 90 items "unique" to their store.
"We're the first World of Frozen of all the theme parks and so we really made our merchandise immersive and giving our utmost to the Nordic style of merchandise," Lam said.
The lead time for the manufacture of the toys is a long-term process, she said, "anything between 18 to 20 months" due to their attention to detail.
"We're really giving our guests something that they would want to take home as treasure memories of the lifetime after their magical visit here."
WATCH: Exclusive items at 1st Frozen store in Hong Kong Disneyland
Lam said that in the theme park, their most popular merchandise are those that complement the guests' outfit of the day.
But for the old-school, there are Frozen post cards that can be mailed to anyone, especially with Christmas just around the corner.
"Arendelle is a very special place and when you go to special places, you want to share with your friends at home," Lam said. "So we have a post box outside. We have the postcards in here and then we will send them anywhere in the world." — Video by Kathleen A. Llemit, editing by Anjilica Andaya
WATCH: Olaf talks to himself
RELATED: World of Frozen to open in HK Disneyland on November 20
*****
Credit belongs to : www.philstar.com