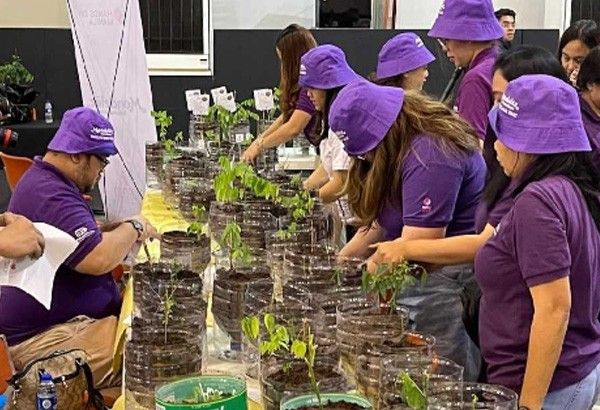 MANILA, Philippines — This year marks Hands On Manila's 18th Servathon, its first face-to-face volunteer event post-pandemic and one of its most successful yet. Cheering, rapping and back-flips — these would be some of the furthest activities when one thinks about serving the community.
Over 1,100 people and 18 corporations painted, planted and packaged food parcels to aid and improve malnutrition for nursing mothers in the Rizal province at the Hands On Manila (HOM)'s "Servathon 2023: "Stop stunting, start thriving. Join the fight against Child Malnutrition" last October 21 at the Philippine International Convention Center (PICC).
This year's cause, child malnutrition, is a persistent issue in the country.
The beneficiaries were three women's organizations, namely, BUSILAK (Buhayin Ilog Lawa at Karagatan) from Angono, KAMATA (Kababaihang Magsasaka, Mangingisda, at Mananahi sa Talim) from Binangonan and KABIYAK (Kababaihan Biyaya ng Kalikasan) from Cardona (run under their respective local government units in Rizal), with special help from the Asian Social Institute.
HOM's Servathon (a portmanteau of "service" and "marathon") had a different vitality that this author had not yet experienced before at a volunteer event. I've attended fundraisers and charity auctions and none have had its members doing splits at the start of the event.
As mentioned by HOM's Vice President, Michelle Batungbacal in her opening speech, "HOM's aim is to mobilize large numbers of volunteers from multiple organizations to work together towards a common goal."
All the partner corporations were required to come up with a starting cheer and in true Filipino flair, they exceeded the assignment. Each team's routine was louder and more robust than the last and everyone had such great energy that lasted all throughout.
One could expect FEU (Far Eastern University) to deliver when it comes to cheering, which the Tamaraws did proudly in their classic yellow and green shirts. However, this author was taken by surprise at the vivaciousness of companies a bit more established in construction, insurance, logistics and software. Their employee volunteers, although they don't join in competitions, showed why singing and dancing are the country's pastimes. One volunteer even did several cartwheels and splits while one group danced with masks and wings. Rockwell Land employees even showcased our love of puns with their cheer "We will, we will, Rockwell!"
After the initial displays of team spirit, the event had three stations wherein participants were assigned to finish, within two hours, the following activities:
Volunteers brought out their artistic side by painting a cloth cover for a nursing mother to ease her self-consciousness when trying to feed her baby. Charming ones were painted by volunteers from the ICTSI foundation, LSEG (London Stock Exchange Group), True Value, Standard Insurance, Philippine Transmarine Carriers Inc., PTC Holdings Corporation and Zendesk, just to name a few. Some volunteers carefully curated their color palettes while others lovingly teased each other as to why the hair of the mother they were painting was blue.
Some got their hands dirty with the help of Urban Farmers PH by planting a Chinese Malunggay seedling in a recycled plastic water jug. The plant is not only prolific but provides a number of nutrients for new mothers, encouraging breast milk production. It also has benefits in decreasing anemia. The employees from the BPI Foundation, CIBO, Far Eastern University, Mondelez International, Northern Trust, One Meralco Foundation, LSEG, Rockwell Land, Solaire Resort and PHINMA Foundation even completed their assigned pots ahead of the allotted time. The participants from CIBO finished early enough to have some fun posing with the Malunggay plants like flower bouquets.
They also helped pack a ready meal with Rise Against Hunger Philippines, which provides nourishment for food-insecure mothers and infants. Ace Saatchi & Saatchi, EON, ICTSI Foundation, Northern Trust, Solaire Resort and Standard Insurance carefully set up their packing lines, filled the bags with the nutrient-dense dry food (including rice, soy granules and seasoning), and diligently weighed each bag before going down the line for boxing.
Highlighting child nutrition
Once they were finished, they could take a quick break with some snacks provided by McDonald's and Manila Water – just some of the sponsors who generously provided for the event. Some others that brought volunteers, provisions and donations were EON Group, FEU Media Center, Spartan Philippines, Unilab, Chef Margarita Fores and CIBO group of restaurants, Grace Park, Lusso, Ramen Ron, A Mano restaurant, Krispy Kreme, Lakat Sustainables, Mia Villanueva of MCV Designs and Marilu Batchelor of Maison Lourdes.
The year's keynote speaker was Dr. Bernadette J. Madrid, the head of the Child Protection Unit (CPU) of the University of the Philippines, Manila, and associate Clinical Professor at Philippine General Hospital.
She gave an informative and passionate speech on the importance of nutrition for childhood development and the country's need to improve the health of its nursing mothers and infants.
The statistics are rather dismal. One in three children is severely malnourished, resulting in physical and mental stunting.
The earliest 1,000 days of an infant are also the most crucial for their development. The strength of an infant goes hand in hand with their mother's health. A fed and well-nourished mother will have higher chances of producing nutritious breast milk, which will later provide an infant with a healthier start to life. Unfortunately, only 58% of nursing mothers provide breast milk for their babies during their first six months (the recommendation is up to two years of age).
Underdevelopment issues that stem from malnutrition can become irreversible and possibly fatal after the age of two. Consequently, this problem has resulted in the Philippines having one of the lowest levels of reading and writing for young students in Southeast Asia.
If we can educate others and our LGUs on the significance of nutrition with sensible and sustainable solutions such as planting the Chinese Malunggay, feeding children nutritious meals, and encouraging mothers to breastfeed for longer, then we will be taking concrete steps to help our community and subsequently, our country.
RELATED: Cultivating resilience: Hands On Manila's award-winning urban vegetable gardens during COVID-19 pandemic
*****
Credit belongs to : www.philstar.com