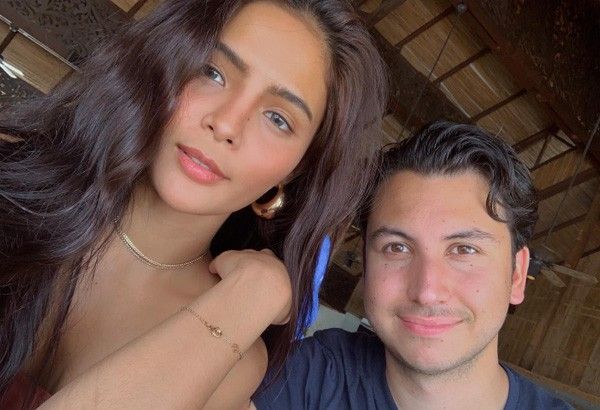 MANILA, Philippines — Lovi Poe revealed that she was happy to be by herself and was not even considering settling down until she met her now husband, scientist Monty Blencowe.
The "Batang Quiapo" star faced the press yesterday in an intimate launch of the newest collection of jewelry brand Imono, which she endorses.
Wearing the latest collection of necklaces and accessories, Lovi Poe stood out in a black corset and lace ensemble.
She was asked what made Monty stood out for her and what made her say yes to him.
"Comparing people isn't really my style or my thing, but I would just like to say that there's a reason why Monty is my husband," she began.
She said that there are a lot of things that should be considered when choosing a partner. But then she saw qualities in Monty that made her see herself with him.
Lovi also revealed that she was not the marrying type and was happy in her single-blessedness.
"Let's just put it this way. I never saw myself settling down. And I would always say that I wouldn't give in to, you know, everyone would say, you have to get married at a certain age, and that wasn't something that I was even pressured to do.
"I was actually very happy alone. Let's just put it this way. I'm happier when I'm with Monty," Lovi said.
Publicist Jun Lalin also shared an anecdote about Lovi's husband. He was present at Lovi and Monty's wedding last August in England.
"Si Monty when he learned I was in Beverly Hills. He asked Lovi to meet with me. Ang maganda kay Monty, lahat ng malalapit kay Lovi, lahat ng nagmamahal sa kanya, gusto din ma-meet ni Monty. From the very start pa lang… Ipapakita niya 'yung appreciation niya sa mga taong mahal at nagmamahal kay Lovi."
Lovi confirmed and said that her husband makes an effort to know the people in her life.
"I mean, he makes the effort for every single person in my life. My team knows that. It's just a good thing that it's not just about me and him. It's about everyone that's part of our lives. He makes sure that everyone's included. So I appreciate that," she said.
Lovi immediately flew back to the Philippines after her August wedding. She has not seen Monty again but said she would probably have plans to see him this Christmas.
She is currently seen as Mokang in the nightly action-drama "Batang Quiapo."
RELATED: Lovi Poe is now married
*****
Credit belongs to : www.philstar.com