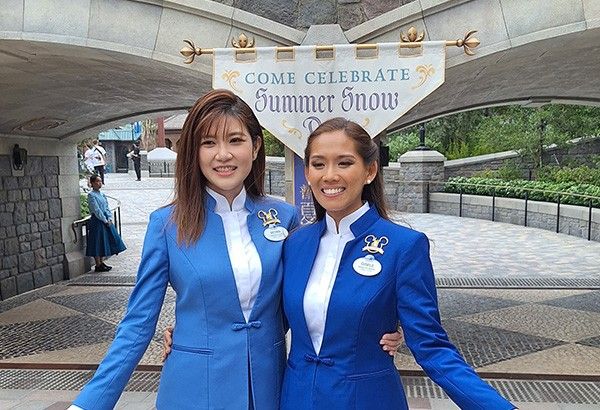 HONG KONG — Gisele Abejero has one of the world's best jobs: She has been working in one of the happiest places on Earth, Hong Kong Disneyland, for 17 years and this year, she has been hailed as the first ever Filipina ambassador of the popular theme park.
Philstar.com and select Philippine media caught Gisele for a quick chitchat during the media preview for World of Frozen, the very first Frozen theme park in a Disneyland set in Hong Kong.
"I grew up with Disney watching cartoons. I auditioned for Hong Kong Disneyland in the Philippines. They called me to say that I got in the show. That's how I started," Gisele shared.
Her passion for dance led her to Hong Kong, where she showcased her dancing prowess. She has appeared at the park's shows, including "Festival of the Lion King," "The Golden Mickeys" and "Mickey and the Wondrous Book."
Gisele said that the people and the place made her stay in Hong Kong Disneyland.
"All the cast members, they're all amazing people and, of course, my passion in dancing. It's like I'm not working here. I love what I do. You're in the happiest place on Earth," she added.
She and Beyan Tse from Hong Kong are recently named the 2024-2025 ambassadors of Hong Kong Disneyland.
They are the 10th generation to represent the resort. The Disney Ambassador Program dates back to 1965, when Walt Disney himself selected the very first Disney Ambassador for the 10th anniversary of Disneyland. In Hong Kong Disneyland, Ambassadors are chosen from among approximately 5,000 full-time cast members.
"Hello, mga kababayan ko. I'm so happy and honored and very proud to be the first Hong Kong Disneyland ambassador from the Philippines. I hope you visit us here with Frozen (theme park) opening on November 20th. Let's go. Come on," Gisele added.
RELATED:Disneyland opens 'Frozen' suites: Price, features, promos, freebies
*****
Credit belongs to : www.philstar.com