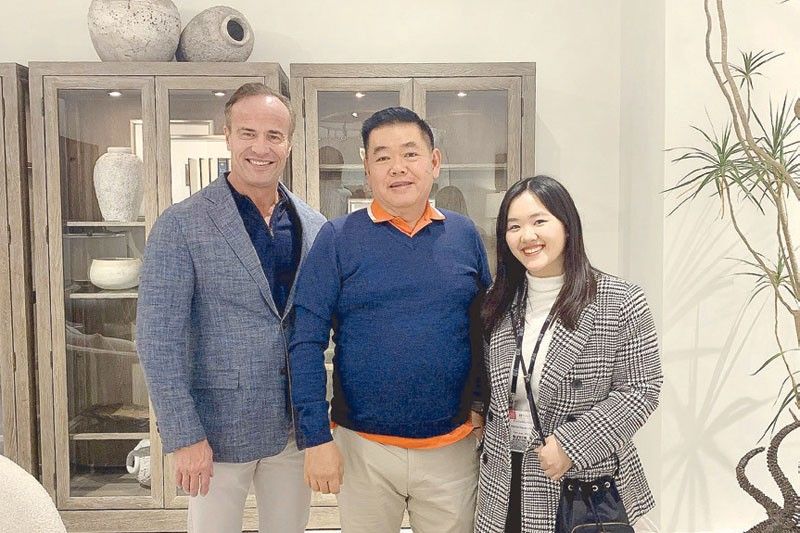 If there's one thing American design has got down pat, it's the heritage of craftsmanship that still allows clothes to be cozy and comfy. And isn't great style all about being at your most comfortable?
Miranda Kerr's all-American laidback yet thoughtfully considered sensibility shows in her line of Greenguard-certified recycled and fuss-free second collection with Universal. Aptly named Tranquility, the collection is all about organic curves and very modernist L.A.
When you think of American stately homes and livable luxury, it probably includes a piece by Bernhardt, America's largest family-owned furniture company founded in 1889 and headquartered in North Carolina. It's been a favorite at Neiman Marcus for decades for its elegant vintage and contemporary furniture.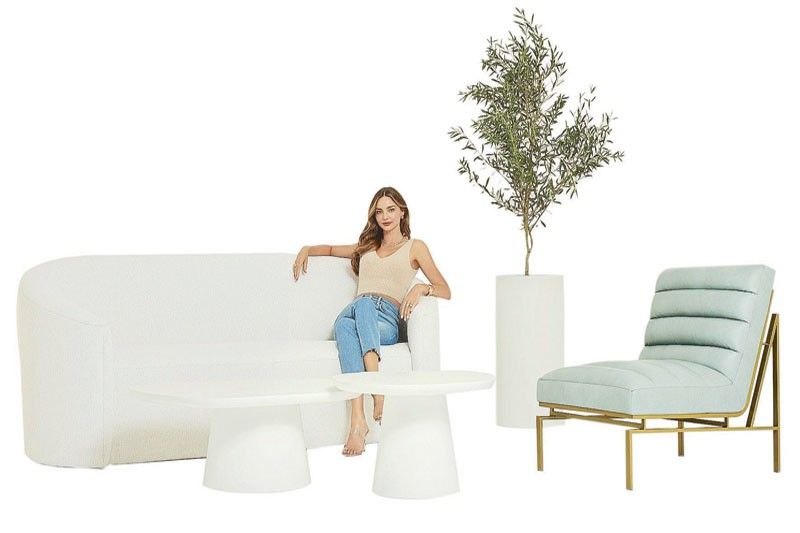 Model Miranda Kerr in her Tranquility sofa, a stain-resistant and sustainability-made piece for Universal at Mav
Both these brands are in the Philippines under umbrella company Home Mavericks.
"Filipino homes are very centered on people, whether it's being family-oriented or being hospitable, so American furniture belongs in their homes because of the level of durability and comfort that makes it hospitable and welcoming to people," says Elisha Janelle Mendoza, HMI's assistant vice president of marketing and finance.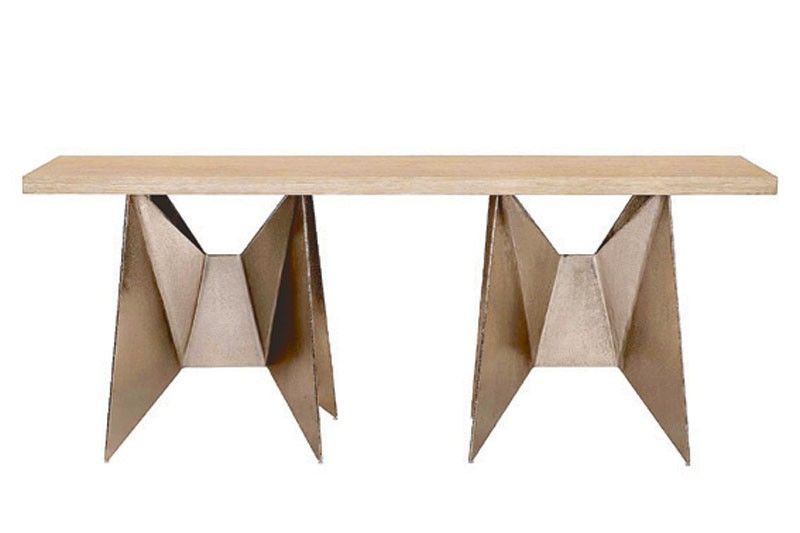 Bernhardt's Solaria console
Owned by her father, chairman Eric Mendoza, Elisha dabbled in her family's F&B, real estate and furniture export and manufacturing businesses, notably Mastercraft Philippines and Mendco Development in Mandaue, Cebu, before joining HMI.
Touching on different elements of home and living, her personal favorite shows her appreciation of joyful yet functional design. "From the new Bernhardt collection is the Solaria console table because of its effortless elegance with its reflective surfaces in modern geometrical forms," Elisha says of the unique statement centerpiece cast in aluminum with a shiny nickel finish. "It reminds me of origami, sophisticated but serene."
YSTYLE: What's an underrated feature about American furniture?
ELISHA MENDOZA: I think a lot of people think of American furniture design as one being boxed in a certain type of style, when in fact American furniture design is relatively young and it reflects a variety of cultural influences and mixed materials as compared to other furniture, giving it a unique flair.
Other key defining features of American furniture are comfort, functionality, and durability. For example, we have up to seven types of cushions with varying levels of spring and feather downs because we know that each person's seating comfort level is different. Some prefer it extra firm while others like cushions that you can sink into. And because of its fine craftsmanship, you're guaranteed that these pieces will stay in your home for a long time.
How would you describe your customer?
A Mav or Bernhardt customer is someone looking for livable luxury, someone who has an eye for the finer details and only collects pieces that are of great design and utmost quality and comfort because they know the importance of investing in the right pieces for their home. They see their home as a reflection of who they are and how they live. To them, a home is their personal sanctuary, wherein they can find comfort. They are someone who thinks long-term because they see that item being a fixture in their homes for a long time.
From one family business to another, what have you learned from Bernhardt?
Great design has always been Bernhardt's guiding principle and the same applies with us. To us, great design is not just about the visual aesthetic but it's about being able to integrate that visual aesthetic with luxurious comfort and functionality because furniture should not only look good but should always feel good to sit in or use; otherwise, it's just a showpiece for display.
What have you learned from your father about running a business?
If there's one thing I've learned from my dad, it's to embrace challenges because that is when you get to learn, grow, and become better. He always told me to not get discouraged too easily because most of the time you never start out as an expert and sometimes, we're so used to that instant gratification that we get frustrated. But he taught me that things take time. You can't control everything but you have control over how you respond to situations. The way you approach a situation and the mindset that you face it with can greatly influence the outcome. He also taught me to see challenges as opportunities for you to create value and I think that's a key driver for differentiating yourself and driving innovation. Because of him, I've also learned that in order to thrive in an ever-evolving environment, you must also constantly adapt and innovate.
What's next for HMI in the coming months?
You can expect several display collaborations in places such as Power Plant Mall this September. And with our growing need for space, we also have a third showroom coming soon so that's something we're really looking forward to.
* * *
Bernhardt and Mav Furniture showrooms are at One Rockwell, Makati and 51 Connecticut, San Juan.
*****
Credit belongs to : www.philstar.com