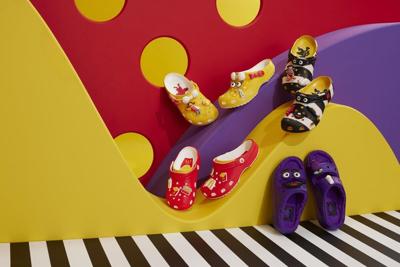 Great news for anyone who wants to look like a fast-food mascot.
Now you can. Well, your feet can. A few years ago, the empty calorie marketers reached a plastic fork in the road. They were running out of food ideas. They were stumped on how to reimagine curly fries as rhombus poutine. Or engineer a seventh burger patty that could still abide by existing packaging. So they had a revelation: when a customer orders a bucket of chicken, why not upsell them with a floppy hat?
Or a branded hoodie, swim trunks and flannel PJs.
Tim Hortons discovered that selling apparel is easier than hawking bland coffee that tastes like giving up on life itself. Why anyone would wear a Trick or Tims Glow-In-The-Dark Unisex Crewneck escapes me. But the company also sold a windbreaker last year with an "insulated kangaroo pocket to keep your Tims goods warm." You know, just in case you are feeling peckish while serving on the front lines of a kinetic war and need your outerwear to double-double as a warming oven.
The latest collaboration between fast food and fast fashion arrived on Tuesday.
In another sign of the apocalypse, McDonald's has joined forces with Crocs. The collection includes sandals, clogs, socks and charms called "Jibbitz," which is the involuntary sound friends will make when they stare down at your feet in horror. The new line, priced at $85 to $90 a pair, includes "McDonald's x Crocs Classic Clog," "Birdie x Crocs Classic Clog," "Hamburglar x Crocs Classic Clog" and "Grimace x Crocs Cozzzy Sandal," which promise to let you feel like "you're walking a day" in the shoes of "everyone's purple bestie."
Bestie?We don't even know what Grimaceis.
Is this dim-witted, monosyllabic freak an anthropomorphic milkshake? Giant taste bud? Purple blob? A McDonald's spokesperson was quoted by People earlier this year: "The best part about Grimace is that he means different things to different people."
So Grimace is a Rorschach inkblot? Is that why I now see hideous shoes?
McDonalds and Crocs believe they are tapping into powerful "fandom." But I have yet to meet someone who loves McNuggets so much, they'd attend a work meeting in yellow foam clogs with googly eyes on their left ankle. There is no dipping sauce for demotion.
Branded T-shirts were once the bastion of rock bands. This made sense. Music telegraphs a greater sense of taste than our sense of taste. If someone is garbed in Grateful Dead tie-dye, I know I am dealing with a user of recreational drugs who is not big on personal hygiene or capitalism. Fine. But if I see someone in Burger King overalls and a Panda Express messenger bag, there are only ghastly questions ricocheting around my mind.
Merch has become an economic driver across industries. It's why every podcaster now sells a hat or scarf. The Star needs to get in on this action. Here, off the top of my head:
Rosie DiManno Oven Mitts — when that tray of lasagna is as hot as this great columnist's prose. Kevin Donovan Bifocals — when you need to investigate that insurance renewal. Oh my God.David Olive Olives — garnish your martini with macroeconomics!
My guess is this McDonald's-Crocs footwear will sell out around the globe before you read this column. That is the historical trajectory. Gen Z loves to wear their fave lunch order on their sleeves. But the success of fast-food merch is now in a drive-thru of the absurd.
Here's a lesson I learned as a TV critic: always keep an eye on Japan. Every now and again, a network would send me a screener of a game show in which a contestant in Godzilla cosplay mud-wrestled Hello Kitty as the studio audience laughed and a countdown clock flashed balloon animals as the host poured grape juice over his head and pantomimed an aggressive woodpecker. I never understood what I was watching.
The global innovator in fast-food merch? That's right. Japan. That's where Burger King marketed a "Flame Grilled Cologne," because every woman fantasizes about men who smell like Whoppers. Japan also pioneered the KFC Drumstick Pillow. Stick your head in this plush piece of poultry and snooze at your desk or on the commuter train home.
At some point, this fast-food merch boom will go bust after people come to their senses and realize they do not want to leave the house looking like an enchilada. Aside from a marine biologist with a Quarter Pounder fetish, I am hard pressed to imagine the market for McCrocs that are this McUgly. Bowling alleys have finer footwear.
Maybe it's just me. Maybe I'm just out of touch with the tootsie zeitgeist that now has people willing to pay close to 100 bucks to sashay around town in black-and-white striped Hamburglar clogs. But if this works, McDonald's should target different demos. Maybe a line of orthopedic walking shoes called The Golden Arches? Or the Filet-O-Fish Defibrillator Paddles, just in case you have one too many? Or the Egg BLT McMuffin Cholesterol Pinprick Jibbitz Tester? Hot Fudge Sundae Underwear!
We need fast food to start caring about public health, not fashion.
*****
Credit belongs to : www.thestar.com