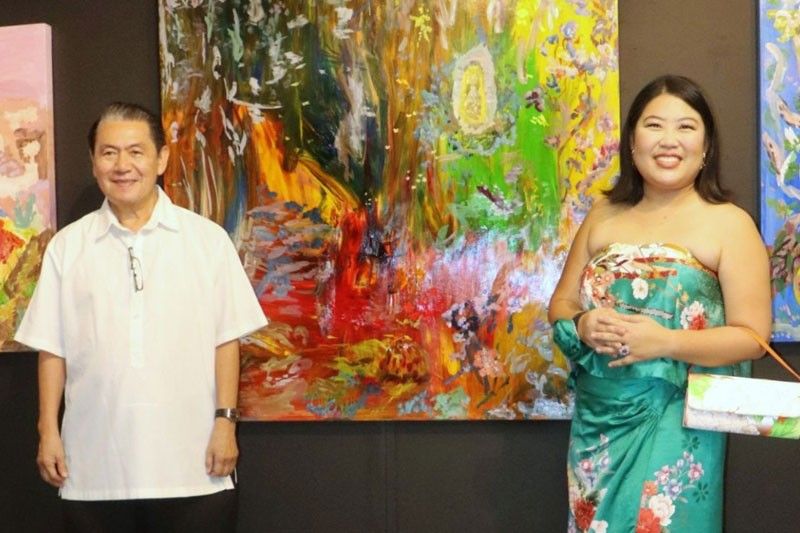 MANILA, Philippines — The exotic flora of the Philippines is evoked in the second solo show of tea sommelier and visual artist Rachel Ngan Dueñas.
The exhibit is ongoing until October 29 in Galerya Amalia at the LRI Design Plaza, N. Garcia Street, Makati City.
Called "Country of Flowers," Dueñas' "healing art" has become her trademark, which is said to embody a "cathartic release of emotions restoring one's mind and soul."
"I admire flowers in many ways. They grow for such a short amount of time in soil that they did not choose. But in that short time. there is beauty in their life. Perhaps us human are like that. We did not choose where to be born but then it is a testament that our lives no matter how short can be beautiful and impactful," Dueñas said.
Her mentor, artist-critic Cid Reyes, wrote of her: "Working stylistically with impressionistic brushstrokes, Dueñas expresses the essence and emotional aura of the floral subject, transcending the direct depiction of any botanical species. Upon viewing these works, the experience is more like a stroll in the garden after an afternoon shower than gazing at a marvelous and formal flower arrangement encased in an antique Oriental vase."
Reyes also likened Dueñas' preference for flowers as a subject to the lifelong fascination by the late Spanish painter Betsy Westendorp for our radiant flora, especially wild orchids.
But o a recent trip to France to watch the Paris Fashion Week shows of Albert Andrada, Michael Leyva and Michael Cinco, Dueñas was drawn to two French Masters.
"I recently visited the Musee de l'Orangerie. I was blown away by the strokes of Monet. I saw his weakening eyes but he had a vision to create massive water lilies meant for his quiet prayers. Cezanne represents amazing layering that made me understand why I am told that I am a young Impressionist," Dueñas shares.
Some of the eye-catching pieces in the exhibition are "The Grotto," inspired by a shrine built underneath the salt mines of Poland; "Sorrows Crossing," which "elicits a morose emotional aura"" and "Genesis," subtitled "Let There Be Flowers," where "light and color become a seamless and simultaneous creation."
"I am humbled to see the people that came in to support me. It filled my heart with so much love to be on the receiving end of someone's kindness," Dueñas said.
But, how does she divide her time between being a tea sommelier and a painter?
"Admittedly, it's like night and day. Being a tea sommelier is a morning/ early afternoon job since no one wants to be caffeinated at night since sleep is precious. An artist's life happens late in the afternoon or at night in terms of events," she explained.
Dueñas will be busy in the next months. On November 18, she will hold her third solo show, "Christmas Stars Under Guava Sketches."
"'I am so excited for that because I always wanted to do Art x Fashion. I am the art part and the fashion part is Edya 1929," she said.
"For 2024, I have some opportunities in Paris but nothing;s final. When I was at Paris Fashion Week, the Parisians loved my art and loved my tea work. They were so disappointed that they couldn't see my work in Paris," she added.
"Thinking optimistically, I want to show in Paris because the friends I made will be thrilled. I want to bring our beautiful tropical flowers for the Parisian art scene," Dueñas said wistfully. "I want to do more art x fashion collaborations but on an international scale."
For artwork inquiries, contact [email protected], Text/Viber: 09177212949 | 09695584854, Facebook: Galerya Amalia; Instagram: @galeryaamalia, Website: www.galeryaamalia.com.
*****
Credit belongs to : www.philstar.com