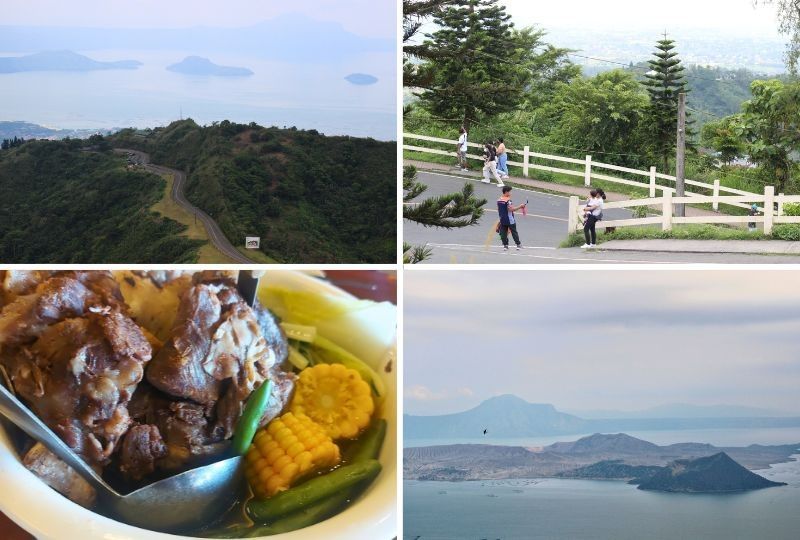 MANILA, Philippines — Cool breezes, stunning views, soothing cups of coffee and a heartwarming bowl of bulalo. Tagaytay has always been a go-to escape for city folks in need of a quick break.
With holiday vibes and Amihan in the air, it becomes an even more charming destination for a well-deserved, year-end relaxation.
Just before the year ends, you can gather the caffeine-loving squad and try the blockbuster Hiraya Starbucks or, perhaps enjoy a laid-back time and savor local brews in quaint cafes.
The kids and kids at heart can also look for fun and thrilling activities to try at Skyranch Tagaytay or Picnic Grove.
Meanwhile, the "titas" and "plantitas" can unwind and catch up at Sonya's Garden, embraced by nature and the sweet fragrance of flowers. It's the perfect spot for a lovely date where they can indulge in delightful cuisine and embrace the serene atmosphere.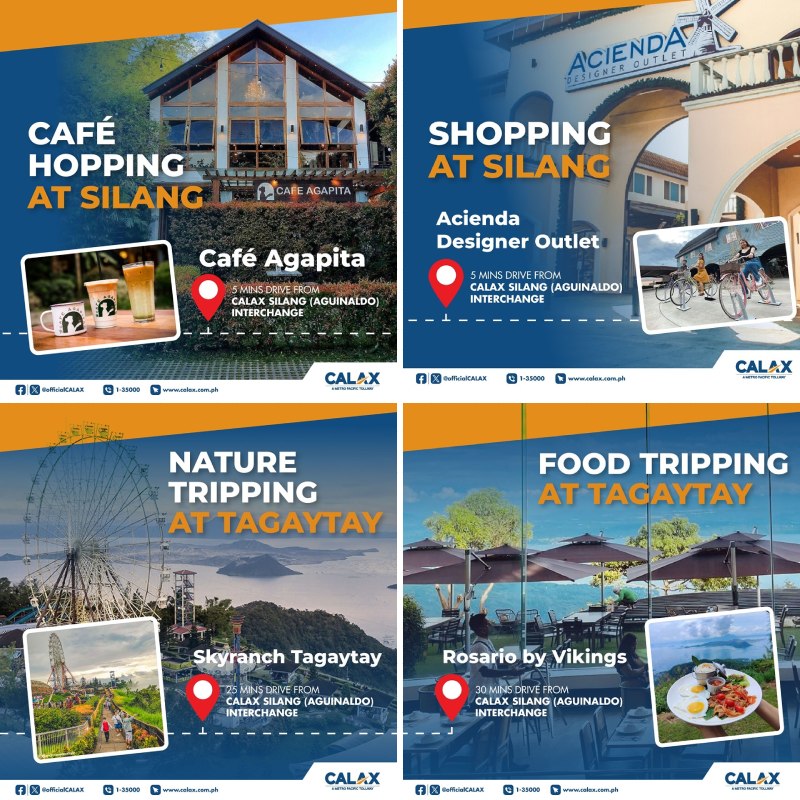 Needless to say, there are tons of activities to do and places to go to at Tagaytay, which is why it's easily the go-to road trip destination of many.
And what's more, your "Biyaheng South" to Tagaytay is now a breeze, thanks to the convenience of the Cavite-Laguna Expressway (CALAX) as it opens the new Silang (Aguinaldo) Interchange.
CALAX Silang Interchange now open
Just ahead of the holiday rush, the highly anticipated CALAX Silang Interchange was opened to the public last November 8, providing motorists with a faster route to well-loved destinations in the South such as Tagaytay and Silang.
Travelers heading to the south now have fewer worries about getting stuck in heavy traffic as this 3.9-km, 2×2 lane subsection of the expressway is set to improve travel convenience for motorists across the region.
"We're thrilled about this CALAX expansion, which will not only make life easier for our motorists but also boost the local economy. By providing a quicker and more convenient route to popular destinations in Cavite, we're creating opportunities for businesses to thrive and for families to make the most of their time together," Raul Ignacio, president and general manager of MPCALA Holdings Inc. (MHI), the concessionaire of CALAX, said.
The current average daily traffic is 33,000 from Mamplasan to Silang East interchange, but this is expected to increase to 40,000 now that the Silang (Aguinaldo) Interchange is already operational.
Free until further notice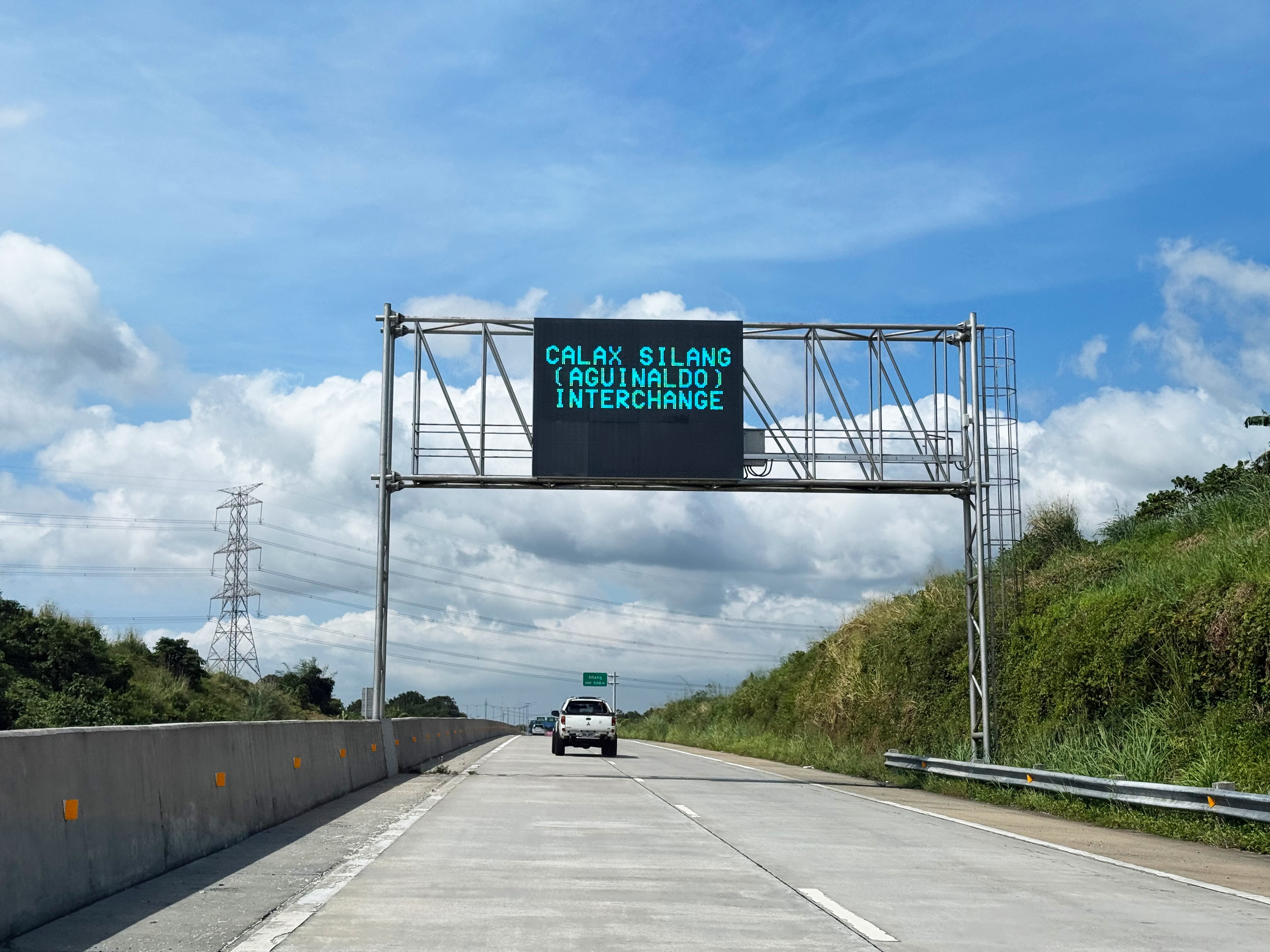 Philstar.com/Nuel Manaligod
Whether you're a "Passenger Princess" or perhaps a "Passenger Prince," here's an even more enticing reason to nudge your buddy into a road trip mood—the CALAX Silang Interchange is currently toll-free until further notice!
You can drive through this new section without paying the toll, giving you a free pass. The only charge is up to the Silang East Interchange, making it easier and budget-friendly to travel on CALAX.
But remember, it's always best and smart to have your Easytrip RFID installed and loaded before you hit the road for your Biyaheng South.
Journey to south through CALAX
Road tripping can be a hassle at times but trust CALAX as it has future developments in store.
According to CALAX, it's set to grow to a total length of 45km by 2024, incorporating eight key interchanges: Technopark, Laguna Boulevard, Santa Rosa-Tagaytay Road, Silang East, Silang (Aguinaldo), Governor's Drive, Open Canal and Kawit Interchange.
CALAX's ultimate plan is to establish a connection with the Manila-Cavite Expressway (CAVITEX) in Kawit, seamlessly linking vital business and tourism areas in Cavite, Laguna and Metro Manila.
Currently, its operational sections stretch from Mamplasan Rotunda to Silang East Interchange.
With all these exciting developments, the anticipation is real. Tagaytay soon, and see you in the south!
For more information and updates, follow CALAX on Facebook or visit Calax.com.ph
---
Editor's Note: #BrandSpace story is created with Metro Pacific Tollways. It is produced by the Advertising Content Team that is independent from our Editorial Newsroom.
---
*****
Credit belongs to : www.philstar.com