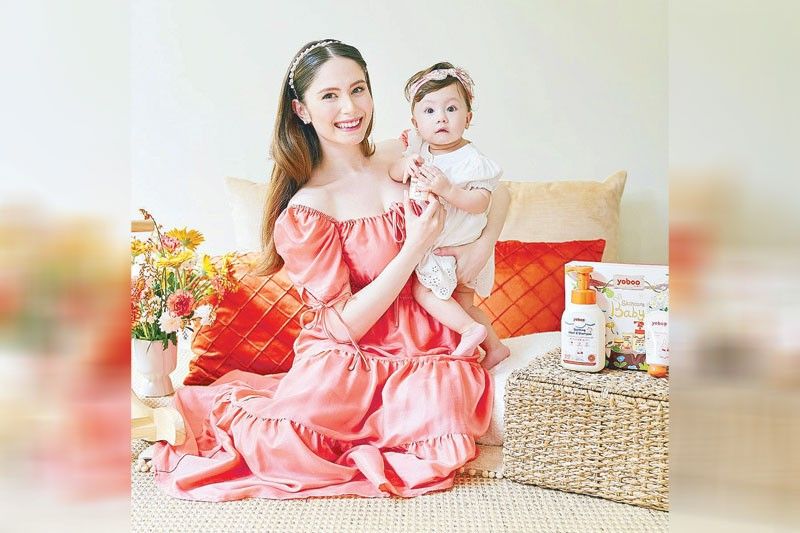 Jessy Mendiola built a thriving career in the entertainment industry. The beautiful actress, model and vlogger is now also a loving wife and hands-on mother.
Jessy and her husband, actor/host Luis Manzano, became first-time parents to beautiful daughter Isabella Rose last December 2022.
In her YouTube vlog, she gave a glimpse of her full day as a mother. She said that while her day always starts with a cup of coffee, one day she needed the energy more due to a sleepless night. Jessy said Rosie, as they fondly call her, had her vaccination, and she hardly slept because she monitored her for fever. She continuously checked her temperature from midnight to 3 a.m. until 6 a.m.
She admitted that as a first-time mom, she's just extremely anxious, not having any previous experience to guide her. That's why she is very appreciative of Rosie's pediatrician and nannies, who make up her support system. She also admitted that she easily gets jittery when it comes to Rosie, hence, it helps that she can rely on other people who know more than her when it comes to motherhood and parenting.
Jessy said that there are so many blissful discoveries, not only about Rosie but also about herself. She was amazed that she has the capability to take care of Rosie by herself. She also quickly acknowledged that Luis helps her take care of Rosie despite his busy work schedule.
The first-time parents are clearly enjoying parenthood. The vlog showed them engaged in various daily activities such as nappy changing, playtime, reading stories, exercise, and putting Rosie to sleep. The two even said that they became emotional when the pediatrician mentioned that Rosie could start with solid foods. They were touched because they found her growth and development so fast.
Their whole day revolves around Rosie. Jessy said the daily activity cycle includes feeding, napping, and diaper changes, in various orders. After the fourth nap, mom and daughter would go around the village for a walk. The night routine includes bathtime, story time, feeding and diaper changes.
In the Manzano household, bedtime is early as they follow Rosie's sleep schedule. Skincare is certainly a priority in the household as well. So it was no surprise for the actress to rely on a Japanese brand for Rosie's skincare needs.
"We are so happy to have Jessy join the Yoboo family, as she navigates through the joys and challenges of motherhood," said Dr. Chinen Rina, pediatrician and founder of Yoboo. "The love and care she gives Isabella Rose is unconditional, and we want to give her as much support as we can through our baby skincare products. Our campaign #yobooBestie represents how a mother is also the best friend of her child and will always strive towards what's best for them — and this commitment is something that Yoboo deeply respects and cares about."
"It's an honor to be part of a brand that takes excellent care of Isabella Rosie's skincare needs and wellbeing," Jessy shared. "A baby's skin is so fragile and delicate, and really needs special attention through a consistent skincare routine. Yoboo gives me this assurance through its top-quality products, so that I can focus on bonding with my daughter and letting her enjoy life with healthy and resilient skin."
Committed to helping every family raise children in a relaxed and scientific manner, the Japanese-based brand provides expertly crafted skincare products for babies using natural plant extracts and biomimetic essence to awaken the skin's intrinsic vitality. Yoboo's complete range of products can help nurture the baby's skin in any environment, whether it's to protect it from the sun, soothe it from any discomfort or sensitivity, or sustain its moisture after a bath.
Its all-natural and easily absorbed formulas reject unnecessary additives, preservatives, and allergens and follow strict quality standards for the parent's peace of mind. Yoboo is a Japanese Mom and Baby Care Brand established in 2009 with bases in Japan, Thailand, Malaysia, Indonesia, Vietnam, and the Philippines.
Committed to providing professional mom and baby products that cater to moms and babies' different needs, Yoboo's product line consists of Nursing Essentials, Feeding Essentials, Baby Skin Care, Baby Furniture and Accessories, Bath Essentials, Outdoor Essentials, Cleaning and Disinfection, and Baby Toys.
* * *
Post me a note at [email protected].
*****
Credit belongs to : www.philstar.com