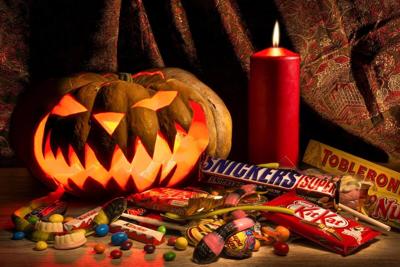 It's time for my annual PSA: let the kids have one night of fun.
With Halloween around the corner, you know what's anti-fun? Craisins. Pretzel ghosts. Mini carrots. Mango mummies. Granola bars. Beet fangs. Apple sauce. Seaweed skeletons. Organic juice boxes. And any other low-cal, high-fibre abomination the "healthy Halloween" killjoys might drop into the sacks of goblins and witches Tuesday night.
It's trick-or-treat. It's not trick-or-Whole-Foods.
Please understand. I am not advocating for childhood diabetes, obesity or tooth decay. I am not a shill for Big Candy. All I'm saying is removing empty calories from Halloween is like banning gifts at Christmastime. Have our kids not endured enough since the 'rona virus flipped their worlds upside down? Do they not deserve Skittles and Snickers?
But here are some recent headlines: "Haunting But Healthy Halloween Treats." "Tricks and Treats For a Healthy Halloween." "Tricks For Making Healthy Halloween Treats!" "Frightfully Delicious Plant-Based Halloween Treats."
Holy Dracula. Peeling a clementine and carving a spooky face to replicate a tiny pumpkin is possibly frightful. But it is not delicious. Why not just stand on your porch and hand out alfalfa sprouts? Some "healthy Halloween" maniacs now drop stickers and stamps in bags.
Stamps! Kids don't write cursive letters. They don't pay bills through the mail.
Why are you giving Iron Man a stamp? Iron Man wants a KitKat.
Our obsession with health and safety is at odds with All Hallows' Eve. But we underestimate how much healthier and safer the world is now amid the media gloom.
Remember when we were trick-or-treaters? And how we wandered, unsupervised, in total darkness? In highly flammable costumes and sub-zero temps with no phones or flashlights? Trying to breathe through toxic masks with wildly irregular eyeholes that made it impossible to look both ways, or any way?
My younger brother, dressed as an android one year, squealed: "I can't move my legs!"
It seems my father, a teacher who used to bring home an actual human skeleton for Halloween from the biology lab, overdid it while duct-taping those robot legs.
Now my brother was losing circulation in his lower extremities.
We had a choice to make. Do we leave him on the sidewalk or rush home to cut him out of his knock-off C-3PO getup? We compromised and told him to hop along. After all, we were on a sugar-high crusade. Those Hershey and Oh Henry! bars called our names.
The irony is our parents only put the kibosh on healthy foods: there might be a razor blade in that apple. Throw it away. Who gave you a banana? That's so weird. Throw it away. A sandwich bag full of Cheerios? Throw it away!
On rare occasions, a homeowner, in the flickering glow of candles and the crackle of ghoulish sound effects, would ask for a trick. Reluctantly, I'd offer a lame knock-knock joke to close the transaction and abscond with Twizzlers or Tootsie Pops. The tricks were the least of it. It was the windfall of treats that united Canada on Halloween.
We kids didn't have an endless supply of sweets to last the calendar year. In May, there was no pillowcase I could casually dip my hand into to retrieve M&M's or Sour Patch Kids. Halloween taught us to space out rewards. I recall once staring at a Kraft toffee and thinking, "No. No. I shall eat you tomorrow." That's budding discipline right there.
Treats were a currency. You valued this edible commodity. You honed bartering skills on the playground, trading an Astro Pop for a Curly Wurly, Chuckles for Fun Dip. I gave away my Wax Lips. I found them highly disturbing. It's like they were trying to talk to me. But by becoming a candy lips philanthropist, I made another kid smile and that made me smile.
You know, until that kid started making bold overtures for my Laffy Taffy.
The "healthy Halloween" cultists aren't just handing out dried apricots and Mini Babybels vandalized with googly eyes. They are also serving as junk food cops and customs officials, scrutinizing their child's loot while morphing into an insidious "Switch Witch."
I first heard about this horrifying trend a few years ago from a CP story: "The drive to feed children less sugar has given rise to Switch Witchery. Like the tooth fairy, the Switch Witch is a mystical creature that arrives after children have gone to bed and switches some of their Halloween candy haul for toys and other non-sugary items."
Mystical creature? That sounds more like a thief. That is a fraud artist. No child goes door to door for three hours in an itchy bunny costume to get chickpeas.
It is a sin to deprive any child of hard-earned Hot Tamales.
Ah, no? "Healthy Halloween" fascists are wobbling on a decorated lawn and scowling at a fake tombstone. They need to brush away the cobwebs and see the big picture. Our kids are overscheduled. They spend way too much time on screens. For some, trick-or-treating will be the zenith of physical activity this year. Our kids are coming of age when the algorithmic, soul-warping scourge of social media is all but unavoidable.
Yes, kids should strive for good health — except on Halloween.
This one memorable night was, is and always should be about sweet fun.
*****
Credit belongs to : www.thestar.com