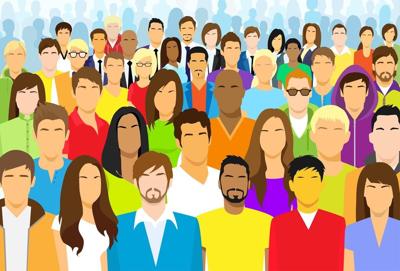 Next time you're waiting in line at the grocery store, strike up a conversation.
It could be good for your health. One rule parents drill into children is, "Do not talk to strangers." It's working. My wife and I were in our parked car the other day, trying to MacGyver a broken power shade on the sunroof. Don't ask. I was in the driver's seat, Andrea was in the back. Her door was open toward the sidewalk.
I was fumbling with a clip on the overhead track and cussing like a man who lost a winning lottery ticket. Two little girls, maybe eight years old, ambled past and slowed to stare.
Andrea, who is very outgoing, offered a cheery, "Hi!"
But the girl closest to the open door gave her a suspicious once-over.
Then she told her friend: "That's a stranger. Do not get in that car."
It felt like I was in a "Dateline" podcast. But her thinking out loud made me laugh out loud. I was tempted to shout, "We are not kidnappers!" But then I would've said: "Wait. You girls have 10 little fingers. Can you please help me with this plastic clip we ordered online from a Chinese firm that shipped it in a sandwich bag with no instructions?"
Kids should not talk to strangers. Agreed. But what about the rest of us?
On Thursday, a press release caught my eye. "Talk to a Stranger Week" starts on Nov. 20. Survey research from the GenWell Project and Simon Fraser University found that Canadians "who greet strangers at least once a week are three times more likely to be happy than those who do not."
(I'm assuming this excludes road rage incidents and bad blind dates.)
But I read a story a while back about an elderly gentleman who credits his longevity with meeting new people every day. Earlier this year, a study found that loneliness was as bad for your health as smoking 15 cigarettes a day. Other recent studies link talking to strangers with improving cognition to creativity. We are social creatures.
Or from this week's release: "Talking to strangers can increase optimism, trust, happiness, compassion, an increased sense of belonging, and reduced feelings of loneliness."
So the question becomes: how do Canadians get better at breaking the ice?
The press release flagged "using eye contact." It also advised to not get discouraged: "When someone doesn't respond to your outreach, try the next person you come across."
I don't know about that. Not sure if it's wise to go aisle-to-aisle in a Best Buy and ask, "How's it going?" to every customer you see. You might find yourself talking to security.
But there is no doubt we need to do a better job chit-chatting with strangers.
The promise of social media turned out to be a lie. These platforms did not unify the world — they drove us apart. If everyone is entombed in an ideological silo and shouting into the ether, we are just shouting at one another. It is exhausting. It is futile.
It's why talking to strangers in real life is so rewarding: You connect on a human level.
I don't want to get corny. But we really need to up our communication game with randos. That is the best silver bullet when society is so polarized. Talking brings understanding.
I've received hundreds of emails from MAGA enthusiasts over the years. Yes, more than 95 per cent those missives encouraged me to do something anatomically impossible.
But a few seemed genuinely interested in sparking a dialogue. So I obliged.
The research is clear. We need human contact as much as water and oxygen.
It's why solitary confinement in prison is the worst form of punishment.
According to a 2021 Canadian Social Connection Survey, cited in this week's press release, "Only 28% of Canadians think that speaking to a stranger can make them happier."
That is precisely why Talk to a Stranger Week is so important in 2023.
We need each other more than ever. So smile, say hi and get to know a fellow Canadian this month. Or at least come over and help me fix this blasted sunroof.
I shall now close by thanking all of the kind strangers who wrote in with fantastic advice after my recent call for attracting backyard birds. I heard from readers in every province and several countries, even though I have zero geographical shot at luring tropical birds.
But I now have a game plan to attract the Orioles this spring, one that will involve orange slices and grape jelly. Buy shares in Smuckers. They are about to get all my money.
I am also abandoning my owl mission. I was informed such a plan requires prefab houses to be placed in treetops. I did not know there were owl bungalows. And I'm pretty sure my wife would balk at any bulk purchase of dead rodents. So goodbye owls.
My browser history probably has me on a government watch list as a bird weirdo.
But I don't care. I love birds. And even more, I love the strangers who took time out of their days to write in with guidance, humour and their own backyard photos. Thank you.
You are not strangers to me. Corny alert: you are my friends.
*****
Credit belongs to : www.thestar.com