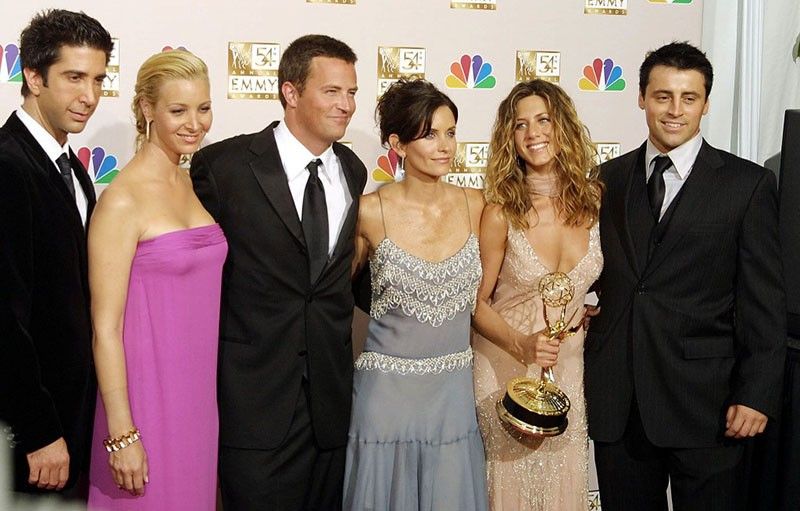 MANILA, Philippines — Actors Jennifer Aniston, David Schwimmer, and Lisa Kudrow have all shared heartwarming tributes for their "Friends" co-star Matthew Perry who passed away last month.
The three had released a joint statement with fellow stars Courteney Cox and Matt LeBlanc a few days after Perry died, but it was not until last Wednesday did any of the actors give out a personal farewell message.
LeBlanc — whose character Joey Tribbiani shared an apartment with Perry's sarcastic Chandler Bing on the show — was the first to publicize a farewell, followed by Cox who played Monica Geller, Bing's future wife.
Aniston, who portrayed Rachel Green, posted a lengthy message on her Instagram account using a conversation she had with Perry over a behind-the-scenes photo sharing a laugh and a scene from the penultimate episode of "Friends."
"Oh boy this one has cut deep," Aniston began. "We all experience loss at some point in our lives. Loss of life or loss of love. Being able to really SIT in this grief allows you to feel the moments of joy and gratitude for having loved someone that deep. And we loved him deeply."
The actress called the "Friends" cast a "chosen family that forever changed the course of who we were and what our path was going to be," and noted how Perry succeeded at making people laugh.
"Matty, I love you so much and I know you are now completely at peace and out of any pain. I talk to you every day… sometimes I can almost hear you saying 'Could you BE any crazier?'" Aniston ended, referencing Bing's iconic demeanor on the show.
Schwimmer, who played Monica's brother Ross and barely posts on Instagram, also shared a throwback photo from "Friends" with Perry — which Schwimmer said was his favorite moment with him — and began his tribute by thanking him a decade of laughter and creativity.
"I will never forget your impeccable comic timing and delivery. You could take a straight line of dialogue and bend it to your will, resulting in something so entirely original and unexpectedly funny it still astonishes," Scwhimmer continued. "And you had heart. Which you were generous with, and shared with us, so we could create a family out of six strangers.
He too referenced Bing's sarcasm, "I imagine you up there, somewhere, in the same white suit, hands in your pockets, looking around — 'Could there BE any more clouds?'"
Kudrow's tribute was full of gratitude for the different things Perry brought out in the group, particularly his personal brand of comedy; Kudrow played the eccentric Phoebe Buffay.
"Thank you for your open heart in a six way relationship that required compromise. And a lot of 'talking.' Thank you for the best 10 years a person gets to have. Thank you for trusting me… Thank you for the time I got to have with you, Matthew," Kudrow ended.
The five actors were spotted attending a private funeral service earlier this month with more of Perry's loved ones, including his mother Suzanne Morrison, father John Bennett Perry, and stepfather Keith Morrison
The wildly popular "Friends" followed the lives of six New Yorkers and ran for 10 seasons from 1994 to 2004.
Perry was found unresponsive in his Los Angeles home due to an apparent drowning. No drugs were found, nor was there any sign of foul play. An autopsy has been completed but the cause of death has been "deferred," pending a toxicology report.
The actor also appeared in movies such as "Fools Rush In" and "The Whole Nine Yards." He received five Emmy nominations, including two for guest appearances on "The West Wing." — with reports from Agence France-Presse
RELATED: Courteney Cox, Matt LeBlanc pen farewell messages for Matthew Perry
*****
Credit belongs to : www.philstar.com